New EU rules means up to £15bn of specialised services contracts have been advertised for the first time
Contracts will be awarded to incumbent providers unless expressions of interest are received
Tight timetable and service groupings may work against private sector bidders
Private providers have been given the chance to bid for thousands of NHS services for the first time due to new European Union competition rules.
NHS England has published "prior information notices" for its specialised services contracts in the Official Journal of the European Union this month, in line with new EU regulations introduced in April.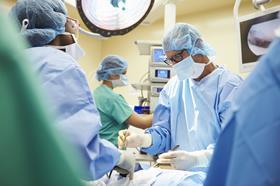 Contracts will be awarded to incumbent providers unless expressions of interest are received.
The notices say NHS England's buying department is "looking for potential suppliers" to contact them with bid applications.
The national body commissions about £15bn worth of specialised services, and has created 278 contract "lots", which encompass suites of services to be provided in specific geographies.
The public notices signal an intent to award whole contracts for 2017-19 to the incumbent providers, unless expressions of interest are received from alternative operators, triggering a competitive process.
Expressions of interest must be received within 21 days of 14 October, when the notice was published.
A private sector source, who asked not to be named, said non-NHS providers "already do more specialised work than is sometimes acknowledged", often in partnership with an NHS trust.
But they added: "The tight timetable does make it difficult to forge the partnerships that might be needed. There may still be interest but it'll be at the margins."
They said services such as specialised cancer, diagnostics, cardiac and renal care may be targeted as these are already contracted to private providers in some areas.
In a note sent to providers of specialised services earlier this month, seen by HSJ, NHS England said: "This will be the first time the new rules have applied to the contracting round for NHS specialised services.
"The regulations set out a new light touch regime, which allows commissioners flexibility to design an appropriate, proportionate process."
This means the contracts must be publicly advertised where they are worth more than €750,000, the process must be transparent and bidders treated equally, and the criteria must not artificially constrain competition or specify organisational form, among other conditions.
The note added: "The [prior information notice] will also include notice of our intent to explore the opportunities for longer than two year contracts where this affords opportunities for significant improvements in service quality and efficiency facilitated by using the NHS standard contract option to extend term for up to two years."
According to an expert on NHS competition rules, who also spoke to HSJ on condition of anonymity, the fact that expressions of interest are invited at lot level, rather than for individual services, will make it more difficult for private providers to bid.
He said: "If you're a private provider you might be interested in an individual service, or a different group of services, so organising the services into defined lots is likely to exclude people in some ways."
But he added: "It looks reasonable to me the way that they've done it. The only way there would be a degree of concern is if the services had been grouped in odd ways."
A source at NHS England said breaking down the services into smaller lots would increase transaction costs for the NHS, and may disrupt interdependencies between services.
An NHS England spokeswoman said: "Setting out our contracts for existing services in this way enhances transparency and provides an opportunity to ensure the NHS and our patients are getting the best value and quality of care."