Just two trusts achieved or exceeded 95 per cent target overall
Eleven trusts had a performance below 70 per cent
Previous record low was recorded last March
NHS performance against the four-hour accident and emergency target hit a record low in January on both the overall and type 1 category for major emergency departments.
NHS England data published today revealed overall A&E performance was 84.4 per cent – two percentage points down on December – against a target of 95 per cent. Type 1 data dipped around three percentage points from 79.3 per cent reported in December to 76.1 per cent.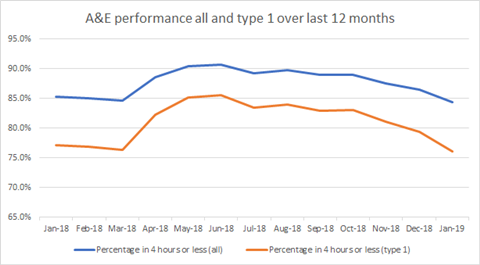 The previous record low since 2004 for the target last hit in July 2015 was last March, when the NHS' overall figure was 84.6 per cent and Type 1 hit 76.4 per cent.
The deterioration came as demand rose to record levels. There were 564,000 emergency admissions in the month – 7.2 per cent higher than the same month last year and the highest number on record.

Experts, however, argued there have been far lower rates of flu and winter vomiting viruses than last year, which should have eased pressures on hospitals. Instead, trusts were reporting bed occupancy levels running at 95 per cent – way over both NHSE's 92 per cent target and the 85 per cent level the royal colleges deem safe.
Just two trusts – Luton and Dunstable University Hospital (98 per cent), and North Tees and Hartlepool (95.4 per cent) foundation trusts – achieved or exceeded the target for overall performance. Luton was the only trust to hit the target for type 1 performance (See table: The top 20 trusts on type 1 performance).
Overall performance dropped below 70 per cent at 11 trusts, with United Lincolnshire Hospitals Trust (62.7 per cent) recording the worst performance.
Nine trusts recorded 60 per cent or below on type 1 performance, with Croydon Health Services Trust (49.2 per cent) the only trust to slip below 50 per cent (see table below: The bottom 20 trusts on type 1 performance).

But, as the number of people attending A&E had risen, NHS England argued performance had therefore improved.
NHS England said: "Despite real pressure particularly over the past few weeks, thanks to NHS staff the health service has seen improved performance since the start of December compared to last winter, with thousands more people successfully treated in A&E within four hours than last year, significantly faster responses to life or death 999 ambulance calls, and unlike last year no national cancellations of routine surgery."
Health Foundation senior policy fellow Tom Gardner said: "We can't blame current NHS performance on bad weather or a viral outbreak alone."
He added: "Despite lower rates of flu and winter vomiting viruses than last year, the NHS is under more pressure than ever… Bed occupancy has reached the highest level so far this winter, and at 95.2 per cent is well above levels deemed to be safe."
The Nuffield Trust warned the figures "remind us that the NHS is fighting a losing battle in trying to meet its commitments to provide timely health care in the face of the pressure it is under".
The think tank's chief economist John Appleby added: "There is a risk that we lose sight of these problems as Brexit distracts us, or become numbed as we forget the last time targets were met. But this situation has a serious impact on hundreds of thousands of patients, and will be demoralising for many staff.
"The proportion of patients spending more than four hours in A&E has risen to 15.6 per cent in January – the highest ever in this set of data. It looks like the gap between the service's capacity and the care we need from it is widening.
"Only two major emergency departments in England met the four-hour target and attendances have risen by an astonishing 85,000 compared with January last year, increasing through the winter when they would usually fall. Last year there was widespread concern as we saw trolley waits balloon, yet today's figures show an even higher level."
Royal College of Emergency Medicine president Taj Hassan said: "These figures make clear the true scale of this crisis facing our systems. Despite a relatively mild winter, with lower rates of norovirus, nearly one in four people are waiting over four hours and nearly a third of all attendances require admission; the need for more beds could not be clearer.
"Sadly the situation afflicting our emergency departments has become seemingly normalised with a 'chronic crisis mode' that does not allow staff to deliver the quality of care they would wish and patients should rightly expect."


The top 20 trusts on type 1 performance
| Name | Percentage in 4 hours or less (type 1) | Percentage in 4 hours or less (all) |
| --- | --- | --- |
| Luton And Dunstable University Hospital NHS Foundation Trust | 97.1% | 98.0% |
| Yeovil District Hospital NHS Foundation Trust | 94.7% | 94.7% |
| Homerton University Hospital NHS Foundation Trust | 92.5% | 92.5% |
| South Tees Hospitals NHS Foundation Trust | 92.3% | 93.4% |
| Harrogate And District NHS Foundation Trust | 92.2% | 93.4% |
| Alder Hey Children's NHS Foundation Trust | 92.1% | 92.1% |
| Chelsea And Westminster Hospital NHS Foundation Trust | 92.0% | 94.2% |
| South Tyneside NHS Foundation Trust | 91.7% | 92.6% |
| Basildon And Thurrock University Hospitals NHS Foundation Trust | 91.2% | 91.2% |
| Barnsley Hospital NHS Foundation Trust | 91.1% | 91.1% |
| Western Sussex Hospitals NHS Foundation Trust | 90.6% | 90.6% |
| Sherwood Forest Hospitals NHS Foundation Trust | 89.5% | 92.0% |
| South Warwickshire NHS Foundation Trust | 88.9% | 90.0% |
| The Newcastle Upon Tyne Hospitals NHS Foundation Trust | 88.3% | 93.9% |
| Doncaster And Bassetlaw Teaching Hospitals NHS Foundation Trust | 88.2% | 90.2% |
| Calderdale And Huddersfield NHS Foundation Trust | 88.0% | 88.0% |
| Gateshead Health NHS Foundation Trust | 87.6% | 90.5% |
| Royal Berkshire NHS Foundation Trust | 87.1% | 89.4% |
| Bedford Hospital NHS Trust | 87.0% | 88.5% |
| Dorset County Hospital NHS Foundation Trust | 86.9% | 93.5% |

The bottom 20 trusts on type 1 performance
| Name | Percentage in four hours or less (type 1) | Percentage in four hours or less (all) |
| --- | --- | --- |
| Croydon Health Services NHS Trust | 49.2% | 79.5% |
| Blackpool Teaching Hospitals NHS Foundation Trust | 52.5% | 82.9% |
| Barking, Havering And Redbridge University Hospitals NHS Trust | 55.2% | 73.1% |
| United Lincolnshire Hospitals NHS Trust | 55.5% | 62.7% |
| The Hillingdon Hospitals NHS Foundation Trust | 57.2% | 80.7% |
| Worcestershire Acute Hospitals NHS Trust | 57.5% | 71.5% |
| Lancashire Teaching Hospitals NHS Foundation Trust | 57.8% | 81.4% |
| University Hospitals Plymouth NHS Trust | 59.1% | 71.8% |
| Wrightington, Wigan And Leigh NHS Foundation Trust | 60.2% | 63.7% |
| Norfolk And Norwich University Hospitals NHS Foundation Trust | 60.6% | 66.8% |
| University Hospitals Birmingham NHS Foundation Trust | 60.9% | 64.1% |
| Nottingham University Hospitals NHS Trust | 60.9% | 64.5% |
| Shrewsbury And Telford Hospital NHS Trust | 61.3% | 67.9% |
| Portsmouth Hospitals NHS Trust | 61.6% | 69.4% |
| West Hertfordshire Hospitals NHS Trust | 61.8% | 74.3% |
| Wirral University Teaching Hospital NHS Foundation Trust | 62.3% | 74.0% |
| King's College Hospital NHS Foundation Trust | 63.3% | 71.9% |
| Warrington And Halton Hospitals NHS Foundation Trust | 64.9% | 74.3% |
| East Lancashire Hospitals NHS Trust | 65.3% | 76.5% |
| Stockport NHS Foundation Trust | 65.4% | 68.6% |
| Medway NHS Foundation Trust | 66.0% | 74.8% |
Source Date
14 February 2019