As the government presses on with plans for online health services by 2015, Shaun O'Hanlon discusses how we can all seize control of our health and care through technology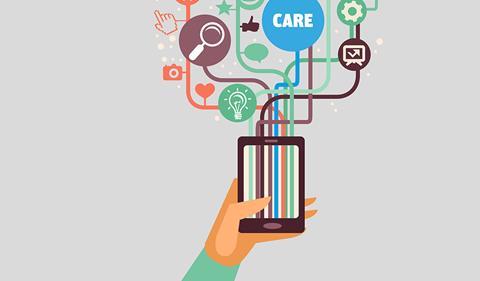 Social networking
The sea change in society's use of technology has had a profound impact, changing the way we all do things at work, play or managing our everyday lives. Everything is touched by it, from socialising to broadcasting, publishing, education and banking. The list is endless. But the impact on our health is just at the beginning.
'Treating citizens as equals in decisions and empowering them to take control through technology has the potential to save NHS money'
The NHS has been slow to adopt citizen focused technology in many areas. Instead, we are seeing patients and innovative suppliers busy shaping the future of healthcare by tapping into the huge array of cutting edge solutions available.
This is "citizen health": patients choosing the technology that they like to seize control of their own health and wellbeing. The health service cannot control this, and neither should it. It simply needs to understand and embrace the transformational power of citizen technology.
Treating citizens as equals in decisions on healthcare and empowering them to take control through technology will not only result in a more motivated population, it also has the potential to save money, as healthier people need the NHS less.
An app for that
What kind of technology is hitting the spot with patients?
A 2013 survey found that there are now more mobile phone subscribers (over 83 million) in the UK than there are people (about 64 million).
That means a lot of us must be juggling more than one device. It certainly explains the explosion in health apps coming to market, as developers tap into our mobile addiction.
Apps that focus on specific long term conditions are increasingly popular among "expert" patients coping with, for example, diabetes, depression and irritable bowel syndrome.
Diabetes is a particularly good example of where technology can help patients to better manage their own health against the sober background of a looming funding crisis. In recent years, it has been predicted that the cost of diabetes and obesity epidemics could bankrupt the NHS within a generation.
Thousands of diabetic patients are now downloading free apps to help them stay well and to minimise trips to the doctor. They can:
view data on their mobile;
compare current blood sugar readings with minimum and maximum targets;
view their records in a chart or a journal;
set reminders for their next diabetes clinic; and
check and share their recordings with their GP.
Apps can also integrate with existing technology. For example, blood glucose meters can give patients a longitudinal record of their diabetes.
Wearable technology is the next big thing. We are about to enter a new era of citizen health where patients have access to a wealth of information ABOUT their physical wellbeing from watches, patches, pedometers and smartphone accessories.
A new smartphone case with built in sensors from the US is the latest in online health trackers. It measures heart rate, blood pressure, temperature and blood oxygen levels, and displays electrocardiogram waves. It can even test lung function through a small attachment that patients blow into.
Wearable technology will enable patients to become more in tune with their bodies' physiology and help them understand lifestyle consequences better. But they will also need better, more accessible information on what the physiological data actually means. The big data potential of connecting wearable physiological, clinical, genomic and social media data is immeasurable.
Age is no barrier
Personal health apps are only part of the picture.
By 2015, all GP practices will be required to offer patients, or have a plan in place for, electronic booking and cancelling of appointments, online prescriptions and online access to their records.
Hospital pharmacists, emergency care and other acute clinicians are already securely sharing data with GPs and their patients, with the potential for patients to contribute their own data.
The benefits are clear from early adopters, who report reduced queues at reception and fewer routine phone calls to the surgery. Staff are freed up to deal more quickly with patients who have more urgent queries.
The number of patients who do not turn up is reduced because patients take responsibility for their own appointments.
Hospital staff and GPs are spending less time on the phone to each other because they have patient information on the screen in front of them.
Online health services could help meet not only the government's vision of "no decision about me without me" but also the holy grail of patient power: shared care plans between patients, clinicians, carers and advocates, where everyone has a stake in healthcare and outcomes.
'Patients are becoming health information experts via online information portals'
Secure electronic messaging, consultations and prescribing in partnership with community pharmacists will also be key to the management of patients. It is vital if GPs are to cope with an ever increasing workload and reduced budgets.
Online, GP led triage will save expensive face to face consultations and ensure that they concentrate on the patients that need them most. Video GP consultations via Skype or more tailored products will become commonplace in the near future.
The technology for online GP services is already in place to make these plans a reality – and the evidence is that patients are up for it. Recent figures show that visits to the Patient Access portal have risen by more than 60 per cent since June last year.
In April, more than 184,000 appointments were booked and nearly 50,000 cancelled online, and more than 406,000 repeat prescriptions requested. Patients can access the service via computer, smartphone or digital TV.
It is not only the "tech generation" which is using the service; more than a quarter of patients are over 55, and the oldest user, at the Bilston Health Centre in Wolverhampton, is 91.
As well as being increasingly adept in managing their health at the touch of a button or screen, patients are also becoming health information experts via online information portals such as Patient.co.uk.
In the past two years, the number of monthly visitors to this site has nearly trebled, from 6 million to 16 million. Patients use it for authoritative advice written by qualified UK doctors, for online wellness tests such as MyHealth and to engage with expert patient forums for a variety of conditions.
An expert patient
Andrea Hartley, now in her 30s, has had multiple sclerosis for more than 10 years and takes seven different drugs prescribed by her GP Lisa Gutteridge. She also has to make monthly visits to the local hospital for intravenous drug therapy to control her MS symptoms.
Having access to her GP medical record from her laptop via Patient Access allows Ms Hartley to request repeat prescriptions online and have them delivered to her door. She is also able to view test results and hospital reports on her M S treatment.
She said: "It makes it very easy and quick to get repeat prescriptions and it's flexible too. I had to quickly get some more of one drug for muscle spasms recently, and rather than ring the surgery to explain, I typed a short note to the receptionist via an online form and it was delivered that day."
Ms Hartley also appreciates being able to read hospital reports without waiting weeks to receive a letter in the post. "I feel that I am taking more of a part in my treatment by seeing how my MS is progressing month by month, and understanding what is going on."
The challenges
The NHS must accept, adapt and embrace the technology, or get left behind as it breaks down the barriers to improve citizen health.
We must empower patients to access their records, transact with the NHS online and take more responsibility through self-care technology.
'The NHS must accept, adapt and embrace the technology, or get left behind'
That means grasping some of the thorny problems of using online health services, for example maintaining security and confidentiality around record access.
Quite rightly, this is an area of concern among clinicians and needs properly considered measures to safeguard vulnerable patients.
The NHS also needs to make important workflow and process adjustments. These will enable connected patients to interact with their GP, nurse, pharmacist or hospital specialist using e-services.
Dr Shaun O'Hanlon is chief medical officer at EMIS Group