A project to find placements for undergraduate student nurses in general practice has helped to nurture a new era of integrated working, writes Louise Berwick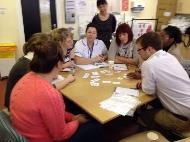 Integrated care is what our patients need. But how does primary care − the place where 90 per cent of consultations take place − enable and embed this way of working?
The Advanced Training Practices project proactively recruits and manages placements for undergraduate student nurses in general practice.
The placements build an understanding and experience of integrated working − and allow the silos of the past to be flattened by a focus on interprofessional education (IPE).
If the professions start to learn together, it makes working together, understanding each other and communicating effectively a natural progressive step.
Reflective learning
The project consists of six sites across Yorkshire and Humber, funded by the strategic health authority. Each site must develop and integrate interprofessional education into each of the student's placements. They have all developed innovative ways to achieve this goal and these are then shared, evaluated and replicated.
'Practices taking part in this project now feel confident to employ students directly from their degree course'
A student nurse who has a placement in general practice will be exposed and involved in learning with, from and about a vast array of professions. The project delivers communications skills workshops with different groups of professions, for example medical students, social work students and nursing students. This involves building understanding of roles and responsibilities and how their role aligned and complemented that of the other professions.
An important aspect of the project is weekly multidisciplinary team meetings, which are followed by undergraduate reflective sessions, where individual cases can be discussed. This elicits suitable pathways and desired outcomes from integrated working.
The sessions are based on examples of learning the students have experienced on their placement. These include subjects such as breaking bad news, safeguarding issues and multi-agency concerns.
The learners share their encounters with the group and this forms the basis of the discussion. Students are tasked with further research at the end of the session and this is discussed at the following week's meeting.
Students spend time learning with, from and about all the professions which operate inside general practice on a daily basis. They are encouraged to seek out interprofessional education and to analyse and evaluate each time this occurs.
Marrying theory and practice
The students receive training from project staff and are provided with documentation to record their experiences. These are then shared in sessions throughout their placement with their mentor.
They also complete a "readiness for IPE" questionnaire before they start their placement, and revisit this at the end of their placement.
'For nurses to be fit for purpose they need to understand the roles of those they will be working with'
The students receive IPE sessions at the university and the project supports the marriage of theory and practice where the students can relate their placement experience to the academic hypothesis.
One of the roles of the project is to develop general practice into a multidisciplinary learning environment and to become more proactive in developing their future workforce.
Practices will need to start looking at their skill mix. As the Deloitte Centre for Health Solutions, in its paper Primary Care Today and Tomorrow, Improving General Practice by working differently, points out:
22 per cent of GPs are over 55.
One in five practice nurses are 55 and over.
23 per cent of the UK population will be over 65 by 2035.
Up to 75 per cent of over 75's are suffering from chronic diseases.
As budgets get stretched and the population lives longer − with multiple long-term conditions and chronic diseases − doing nothing is simply not an option.
General practice requires support and funding to develop. This funding is comparatively small compared to secondary care budgets and training of other professions. Without funding, GP practices could not afford to take part and the project would not be sustainable.
Analysing future needs
The SHA has provided funding for the "hub and spoke" model based on activity outcomes, which are audited. The project sites use hub and spoke infrastructure, which allows more practices to be brought on board with relative ease and for good practice, support and expertise to be shared.
For nurses to be fit for purpose in the future health service they need to understand the roles of those they will be working with. This understanding is good for patients and essential for the primary care team, equipping itself to survive.
The measure of success of this type of training is that practices taking part in this project now feel confident to employ students directly from their degree course, rather than expecting experience and training from other providers.
This is because not only have they played a part in training and therefore understand the level of competency, but also because they have started to analyse their future workforce needs.
Louise Berwick is a project lead for the Barnsley Hub (Primary Care Works) Advanced Training Practices project