The Department of Health's spending review bid for up to £5.6bn to fund the technology projects – revealed by HSJ this week – lays bare the size of the funding challenge the sector faces to deliver its flagship paperless target.
HSJ's technology correspondent James Illman explores some of the main issues facing the 100 or so new 'digital footprint' groups, and argues it is unrealistic to expect them to deliver without upfront investment and a cultural shift.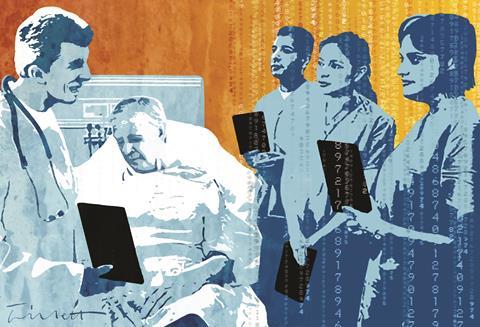 NHS England director of digital technology Beverley Bryant announced this week that commissioners and providers have teamed up to form around 100 "digital footprints" to develop technology strategies for their local health economies.
These groups, led by clinical commissioning groups,will map out how local health economies will be paperless at the point of care by 2020. Guidance on how the roadmaps should be developed was published in September.
The guidance followed a commitment in the Five Year Forward View for the NHS to have "fully interoperable electronic health records so that patient records are largely paperless" by 2020.
Putting CCGs in charge is a significant shift in emphasis from NHS England, which had previously placed the onus on providers to deliver its digital ambitions. Indeed, fundamental questions surround whether CCGs have the capacity or expertise to carry out the role (see below).
Tight timetables
The CCG-led groups have until April to submit their plans to NHS England, which will be published in the summer and refreshed annually. Detail on the make-up of these groups is expected to be published by NHS England in the coming weeks.
The guidance said NHS England anticipates "local momentum on roadmap development will pick up significantly in January 2016, driven by the publication of the 2016-17 planning guidance".
NHS England's national director for patients and information Tim Kelsey told HSJ in September that CCGs face having their 2016-17 plans rejected if they do not show progress in meeting standards set out in new digital guidance.
There is consensus among CCG leaders that the timetable is very tight and those at the EHI Live conference this week raised concerns about how they would cope with the extra burden, especially with winter looming and the system already under huge pressure.
At the same time, providers will be busy filling in self-assessments to establish benchmark data for NHS England's new digital maturity index, the first iteration of which is scheduled to be published in March. It will rate providers on existing capabilities and infrastructure and, crucially, on how much they are joining up with their other providers and commissioners – or interoperability.
The short term aims
The short term aims of the intertwined initiatives are to establish how far the NHS has got on its paperless by 2020 journey; allow providers and commissioners to identify the areas they need to prioritise across their health economies; and drive home the message that joining up and using the technology already in place is as important as installing new systems.
Ms Bryant has said NHS organisations must view themselves as part of "a patchwork quilt" and the focus must be on joining up the system rather than simply focusing on themselves.
The hope is NHS England has created a framework whereby overall guidance is national, and not overly prescriptive, but ownership and delivery of digital projects is very much local.
Many of the chief information officers and chief clinical information officers HSJ spoke to at EHI Live were positive about the plans.
NHS England's technology team must be given credit for this. But they cannot be expected to drive forward this complex agenda, which is crucial to the long term sustainability of the NHS, without the appropriate funding support from the Treasury or buy-in from senior managers beyond the tech community.
Funding
NHS England has consistently said in the run-up to the government spending review, due on 25 November, that delivering its digital programme will require upfront capital investment.
The DH submitted a bid to the government spending review in September saying "£3.3bn to £5.6bn" would be required to deliver its digital plans, although more work needed to be done to refine these costs.
This is a huge sum of money in the context of the spending review, in which some departments are already facing eye-watering cuts. Pressure on departmental bids has only intensified following the House of Lords forcing the government to delay plans for £4.4bn of cuts to tax credits last month.
NHS England faces a significant challenge to persuade the Treasury of the merits of allocating money for technology. Ms Bryant said a key concern of the exchequer is that it will allocate funding for new technology but – even if it is deployed – staff will continue working in the old ways.
With the NHS under unprecedented financial pressure, it is also possible technology funding could get overlooked as policymakers grapple with keeping the NHS operationally viable. An already challenging scenario is only likely to get worse as the NHS enters what many experts are predicting could be the worst winter ever.
Concerns about CCGs' digital capacity
The onus on CCGs to lead the process is another burden on already stretched commissioners. Prior to the September guidance, the empahsis on delivering the digital NHS was very much on providers. As a result there is a sense many CCGs are, understandably, underprepared for their new role.
Ms Bryant admitted NHS England was concerned about the level of CCG digital capability.
She said: "We have a sense from the CCGs that we are speaking to, and the providers, that we don't have enough skills and capability across our sector to help make this happen. We put a bid into the spending review to help inject some of that capability into the NHS.
"We will only know the extent of the capability gaps across the CCG landscape if we ask them to do something and then we cannot get a response…We know that we have got patchy skills and capabilities… Once we know the size of the deficit in terms of skills and capability, we can start to address it."
The purchaser-provider split
The delicate commissioner-provider relationship will be significantly challenged by the digital roadmap development process, not least because of the concerns about CCG's suitability to lead the process.
Ms Bryant agreed with a delegate at the conference that providers should also be given sign off on their digital roadmaps. It will be interesting to see if NHS England formalise this verbal pledge.
In some areas commissioning support units and academic health science networks have also been driving the digital project and will likely seek roles in developing the plans.
AHSNs, such as UCLPartners, have been trying to establish themselves as independent brokers with no allegiance to either the commissioner or provider side.
Some areas have welcomed the input of CSUs and AHSNs, but it does add layers of complexity. Put simply, there is not enough time for the development of plans to get stalled by organisational squabbling over leadership.
Management buy-in is a must
The only way to secure the collaboration and organisational drive required to make these plans credible will be if senior board level managers from across the system buy into and engage with the process.
To repeat an old but fair plea from the tech community, senior NHS board level managers must view technology as part of the day job and not something to leave solely in the hands of their CIO.
While some chief executives are embracing the digital agenda, lack of committed leadership engagement remains a barrier to progress.
Information governance
Even if all these issues are addressed, how to share patient data across different health and social care organisations in a safe and morally acceptable way remains one the biggest challenges facing the NHS.
At the HSJ annual lecture this month, health secretary Jeremy Hunt said: "The plain truth is that the NHS has not yet won the public's trust that it is competent in protecting basic personal information. Hospitals, GP surgeries and social care organisations do not yet all have proper data security protocols in place. So the new guidelines being developed by Dame Fiona Caldicott, our national data guardian, as well as the CQC's review will be vital."
He added: "Let's be ambitious when it comes to technology – but let's be humble as well. We haven't always got this right, especially when it has interfered rather than enhanced the relationship between doctor and patient."