Volunteering bikers are transporting emergency supplies between sites in an innovative relationship with University Hospitals of Morecambe Bay Foundation Trust, says Louise Fleming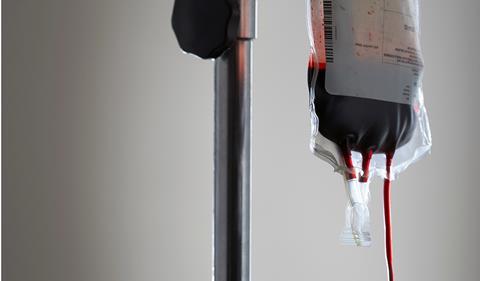 Blood
A new innovative relationship between a local volunteer charitable organisation and trusts in South Cumbria and Lancashire is changing the way urgently needed emergency supplies are transported between sites out of hours.
While there are many biker organisations that work with hospitals across the country, the relationship between University Hospitals of Morecambe Bay Foundation Trust and North West Blood Bikes Lancashire and Lakes is unique in that it is all done for free.
Saving lives and money
"Blood bikes" have been used in the UK since 1969. However, in recent years the number of blood bike groups and volunteer riders has grown significantly.
The common aim of all these groups is to save lives and save money for the NHS. They also aim to promote a positive image of motorcyclists to the public.
'The bikers offer a valuable service to their local hospitals free of charge'
The local blood bikes' committee was inspired after watching a television programme about the Nationwide Association of Blood Bikes, and also by the work done by blood bikers across in Britain.
This turned into an innovative idea that led to them offering a valuable service to their local hospitals and their patients free of charge. It also led to them becoming the fastest growing and largest blood biker group in the UK.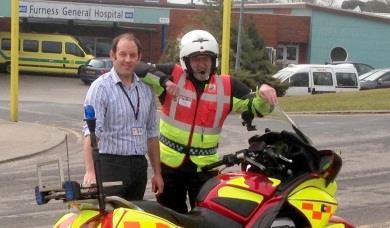 A group of 43 bikers cover the area of the trust's main hospitals in Barrow, Kendal and Lancaster, with a further 220 riders covering the whole of Lancashire.
Their role is to transport urgently needed blood, blood products, small items and other medical requirements between hospitals and blood transfusion banks, out of hours.
Set up in May last year, the volunteer team operate across the trust's hospitals 7pm-7am, Monday to Thursday, with a complete 24 hour service over the weekend and on bank holidays.
Safe and secure
While many have a passion for the open road and helping their local hospital, not everyone can be a blood biker.
The group has tight controls to ensure riders are trained and have adequate information and instruction to safely undertake the secure handling of small hospital items.
'Volunteers are known to travel across the country to bring supplies to Morecambe Bay'
The volunteers receive advanced training to ride specially adapted and liveried blood bikes with sirens and blue lights, which to enable them to carry the emergency supplies they need.
They also receive specialist training from the Medicines and Healthcare Products Regulatory Agency about the correct handling and transportation of blood samples and human tissue. These skills are regularly reviewed to ensure that each volunteer is up to date with current best practice and guidelines.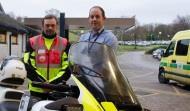 All personell go through the appropriate checks before they undertake any journeys and carry official identity cards while on duty.
Most journeys the volunteers make are between Morecambe Bay's hospitals but they are known to travel further when needed, to Leeds, Birmingham and across the country, to bring donor breast milk and other supplies to Morecambe Bay.
Giving back
So why would individuals give up their spare time to drive across the country without being paid? According to Matt Wilson, local NWBB Lancashire and Lake's secretary and a volunteer rider, it can be for a variety of reasons.
He says: "The main reason our riders want to be involved in our group is that they love riding and they want to give something back. In many cases, they or a relative have received a service of some kind from the NHS and they want to repay it.
"The NHS is paying a fortune for out of hours courier services, money that could be better spent on patient care.
"We have collected 773 items from the three hospitals since May 2013, which equates to more than £23,000 in transport costs alone. This doesn't take into account the time saved and the efficiency of using a bike rather than other transportation through traffic."
Instrumental in the development of the partnership between the trust and the bikers was Barry Rigg, Morecambe Bay's engagement manager, who saw a great opportunity for how the goodwill of the group could support the trust out of hours.
'Volunteers love riding and they want to give something back'
He says: "This partnership not only ensures that our hospitals receive the supplies they need quickly and reliably, but also in terms of the money we save.
"In some cases, out of hours transport can cost us between £30 and £70 for a trip to send items, such as a test tube of blood for testing."
Louise Fleming is external communications and press officer at University Hospitals of Morecambe Bay Foundation Trust