NHS Digital's former chief executive defends its record on patient data sharing
He praises progress and urges successor not to "throw everything up in the air"
Andy Williams dismisses concerns about Home Office data sharing agreement
NHS Digital's recently exited chief executive has defended the organisation's record on patient data sharing and urged his successor not to "throw everything up in the air".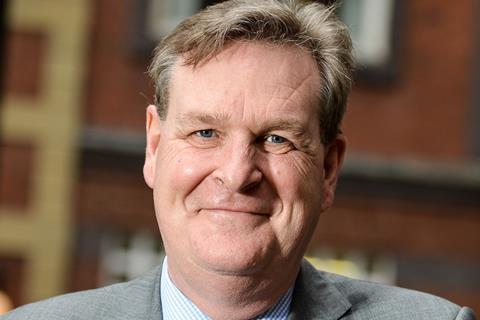 Andy Williams Chief Executive of the HSCIC
Andy Williams' three year tenure, which ended last month, coincided with a challenging period for NHS Digital that included dealing with the fallout of Care.data, a 30 per cent budget cut, and controversy about sharing patient data with the Home Office.
Chief operating officer Rob Shaw is acting as interim chief executive until a permanent replacement is found. HSJ understands an appointment is imminent.
Mr Williams told HSJ there had been challenges but also significant successes. He cited big projects including insourcing the central NHS IT system, the Spine, which handles 400 million transactions, and improving the organisation's culture, to make it more "customer focused".
He said he believed NHS Digital had learned the necessary lessons from Care.data. The project was criticised for how the NHS handles patient data. The debate around consent is ongoing, with ministers still yet to respond to national data guardian Dame Fiona Caldicott's review published last July.
Mr Williams also dismissed concerns raised by his former chair in February about a data sharing agreement with the Home Office.
He said: "We have done a huge amount over the last few years around how the data we hold is passed on [used and audited]. If you get equal noise from both sides then you're probably about in the right place… I think the balance is broadly right now."
He said former chair Kingsley Manning was "wrong" to raise concerns about the amount of access to patient data the Home Office had under an agreement it signed with NHS Digital in January.
Mr Williams, a former IBM executive, added: "As far as I see it, it was not a row with the Home Office. We have entered into a memorandum of understanding with the Home Office to formalise, on a very, very careful basis, the sharing of some data, non-medical data, with certain offences… To my mind it's a really good step forward."
On the issue of public trust in how the NHS uses patient data, he said: "[In terms of the principle that] whenever patient confidential data is used, it needs to be done with the permission of the public, then I think the lessons have been learned… But you would be complacent if you said there was never room for improvement."
The NHS Digital role was Mr Williams' first public sector role after a successful private sector career largely spent in IT. He held senior positions in IBM's internet banking and insurance divisions before moving to telecoms giant Alcatel-Lucent, and subsequently IT firm CSC in 2010, where he had several senior positions including president of its Northern Europe business operations.
He joined the Health and Social Care Information Centre, rebranded as NHS Digital last year, in April 2014. The organisation had been established in 2013 from merging various organisations and some informatics functions from strategic health authorities.
Mr Williams said he thought the current make-up of the organisation should be retained. "The Health and Social Care Act brought the organisations together and we have spent several years integrating those organisations. Is it the right thing that they are mixed?
"I don't think you can separate technology from data [and statistics]. What do you need to run a good modern healthcare system? You need good technology and you need good data," he said.
The organisation was "moving in the right direction" and the culture had moved from being "quite introverted" when he joined to being far more "customer focused" to both its NHS and non-NHS clients, he said.
He continued: "I am not suggesting that that has changed completely, but I think we are on the path of having more of a voice, being more responsive to our clients, the NHS and social care generally… I definitely think we have made a huge amount of progress and whoever comes in has quite a lot of momentum to build on and to continue down the journey."
Mr Williams said his successor should be "prepared to not throw everything up in the air again, but continue down the path that we are on" in implementing Personalised Health and Care 2020, the NHS's digital blueprint that NHS Digital has been working on since it was published in November 2014.