Delivering a health service in which patients must be the first priority in all that the NHS does has never been more important, writes Gary Williams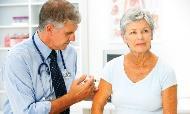 When you consider that more than 90 per cent of all healthcare contacts in England and 300 million consultations annually occur in primary care, where else should clinicians and NHS leaders focus their quality and health outcomes improvement agenda?
The NHS Commissioning Board (which changed its name to NHS England on 1 April), its area teams and clinical commissioning groups each have a statutory obligation to improve the quality of the service it delivers, while ensuring patient and public involvement in an open and transparent forum.
Never before has quality improvement been more timely, following the publication of the Francis report. There are many recommendations within the final report but, fundamentally, it points to delivering a health service in which the patients must be the first priority in all that the NHS does.
Within available resources, they must receive effective services from caring, compassionate and committed staff, working within a common culture; and they must be protected from avoidable harm and any deprivation of their basic rights.
'Key to the success of such an ambitious project would be in the learning and sharing of innovation and best practice'
Providing electronic solutions that promote transparency among clinicians (for peer review, benchmarking and sharing best practice) and with the NHS England and regulators will be key to delivering patient-centred care for general practice.
In 2010, NHS London embarked on a journey to improve the quality of services, patient experience and health outcomes, which primary care is responsible for delivering.
Variation in quality
Acknowledging that while excellence in primary medical service provision already exists, there is, however, significant variation in the quality of services being delivered across London. Key to the success of such an ambitious project would be in the learning and sharing of innovation and best practice through extensive clinical and wider stakeholder engagement and collaboration.
Across 31 primary care trusts, NHS London had 26 different approaches (balanced scorecards) to support assessment of general practice provision. A key task was to review those differing approaches and use the most effective and innovative ways, alongside evidence-based best practice to agree a single, consistent and robust approach for quality improvement and support, once for London.
In order to develop and achieve this, NHS London, in collaboration with GP leaders, London-wide local medical committees, primary care trust clusters, patient representative groups and input from more than 150 other professionals across 70 organisations, developed the Pan-London General Practice Outcome Standards and Framework.
The framework includes a suite of 28 outcome standards developed and agreed by the profession (22 in phase one and a further six in phase two) grouped and aligned to the five overarching domains of the NHS outcomes framework, which form part of a triangulated picture to begin to establish an overall assessment of risk to quality and patient safety.
Essential criteria
Full technical guidance describes each standard, the rationale for selection and potential QIPP opportunities through improved health outcomes. Each measure was selected against five essential criteria:
Be outcome rather than process driven.
Be within the direct control of general practice and therefore achievable by any practice.
Have a strong evidence pathway between the intervention, short-term outcome that is being measured and the longer-term health improvement goals.
Be measurable now so that this does not result in additional burden on the NHS system through new data collections.
Represents the minimum any patient should expect to receive from their GP practice.
Care was taken to ensure that those using this information clearly understood that data alone cannot be used as a determinant for good or bad clinical care, but used alongside other factual local intelligence could begin to consider whether variation was warranted or unwarranted.
In addition, good performance management guidance was developed to support consistency in approach, along with a continuous improvement programme. A methodology paper was also produced and made available to describe fully the statistical processes used to create each threshold and the overall rating. In combination, these elements provide clinicians and healthcare leaders alike with confidence in a platform which can deliver real improvements for patients.
Howard Freeman, GP, NHS London associate medical director and clinical lead for the project, said: "By setting out clearly and publicly for the first time minimum outcome standards Londoners should expect, and by allowing GPs to compare with each other, we will see outcomes for Londoners improve. We should not underestimate the power of peer comparison in the world of GPs."
'We will see outcomes for Londoners improve. We should not underestimate the power of peer comparison in the world of GPs'
Recognising that this was the first time such a programme of work had been undertaken in general practice across the whole of London, or indeed anywhere in England, early in 2011, NHS London engaged further with its GPs, sharing their data with them prior to publication.
Practices had the opportunity to review, and if necessary challenge, the data. This further strengthened the robustness of the data, the process and the ongoing support and collaboration with the profession and its representatives. At every stage of development, all stakeholders agreed and signed off the process.
In April 2011, NHS launched the first pan-London tool for assessing risk to quality and patient safety in general practice, which was shared with all practices and commissioners at the same time. To support peer review and benchmarking, all data was visible to all practices and all commissioners.
Making data public
The development of the general practice outcome standards quality improvement tool was not always smooth and version one of the tool used within the NHS was an Excel-based product.
Productive and useful utilisation proved to be a challenge, considering the various levels of information technology awareness, training and skill sets, not to mention compatibility across the various 2003, 2007 and 2010 versions of Excel that existed across 1,500 providers, 31 commissioners and many other stakeholder bodies. User feedback suggested that the only way forward would be to develop a web enabled product.
In November 2011, NHS London published the outcome standards on its public-facing MyHealth London website, so members of the public and patients can view them as part of the information transparency work stream.
The public-facing view of the data provides patients with an opportunity to compare their general practice with up to five other practices at a time, to support choice. On this platform, the outcomes standards are presented in more public friendly language to support interpretation and patient representative groups were involved in this development stage.
Single platform
NHS London ensures that patient confidentiality is maintained when it makes these outcome standards available in the public domain to ensure patients cannot be identified directly or through triangulation with other sources of information.
To take forward web development of the Excel-based quality improvement tool, at the end of 2011 NHS London commissioned a GP and a specialist registrar (both practising in London), who had a special interest developing IT solutions for healthcare. In collaboration with our programme board – stakeholders and the contractors – a web-enabled quality improvement tool for general practice and commissioners was developed for internal use within the NHS.
Working closely with the contractors who were familiar not only with the data but other common presentations of data, which GPs may be familiar with, an extremely intuitive web interface was developed and launched in April 2012.
'Since the introduction of the framework, there have been demonstrable improvements in data quality and completeness'
This web interface provides a single platform for practices to use for peer review and benchmarking, PCTs/CCGs to use to identify areas for quality improvement and PCT clusters/SHAs/NHS England to use as part of their assurance triangulation processes. Practices also have the facility to compare themselves to other practices with similar characteristics, including the Association of Public Health Observatory practice groupings, or create their own bespoke groups. Providing such functionality may begin to help address the health inequalities that exist across the capital.
Since the introduction of the Pan-London General Practice Outcome Standards and Framework, there have been demonstrable improvements in data quality and completeness, quality of service provision and reductions in variation across London.
Cervical cytology data completeness has increased by 25 per cent to 99.4 per cent and childhood vaccination data completeness has increased by 15.5 per cent to 99 per cent.
Across London there was a 6 per cent reduction in the percentage of diclofenac and Cox2 prescribing between quarters 3 and 4 of 2011-12 and, based on PCT-level data, there has been a 25 per cent reduction since quarter 1 in 2011-12.
At 2011-12 quarter 3, there had been a 20% reduction in the rate of A&E attendances per 1,000 registered patients compared with the same quarter the previous year (see gaph below).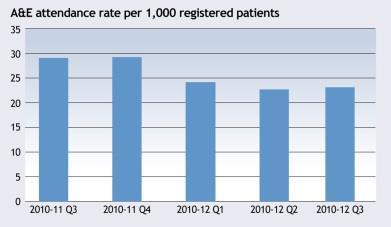 In patients with a new diagnosis of depression, the percentage of patients who have had an assessment of severity at the outset of treatment using an assessment tool validated for use in primary care has greatly improved in London. In addition, there have also been year-on-year reductions in the variability of service provision across London (see graph below – the shift in curve moves to the left year on year).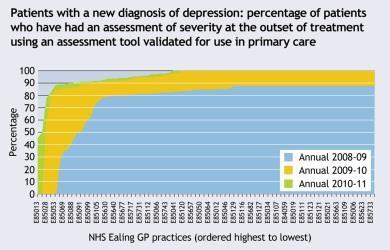 Conclusion
Building on the successes achieved in London, the general practice outcome standards web interface has been adopted by NHS England and was rolled out across the country on 2 April.
Drawing on existing innovation minimises duplication of effort across the NHS, achieves significant economies of scale and provides a single and consistent platform for identifying areas of quality improvement
While there is agreement for the tool to be maintained and refreshed, the next challenge for the system is to safeguard its future strategic development. This can be achieved by building on the underlying principles that developed it through extensive stakeholder engagement and consultation on a new national strategic development platform.
Gary Williams is head of primary care quality improvement at NHS London. NHS London won the HSJ Award in 2012 for enhancing care with data and information management, Gary.Williams@london.nhs.uk