George Freeman calls for deeper relationship between NHS and private sector
There needs to be "a debate about how we fund healthcare", he says
There is a "quiet revolution" in which patients are being allowed by technology to take "responsibility" for their care
Floats idea of local areas being allowed to retain share of savings to reinvest
A health minister has called for an end to the "apartheid" between the public and private sectors in the funding and provision of health and care services.
Life sciences minister George Freeman, whose brief spans the health and business departments, also said there needed to be "a debate about how we fund healthcare", and argued that patients should be allowed to take more "responsibility" for their care.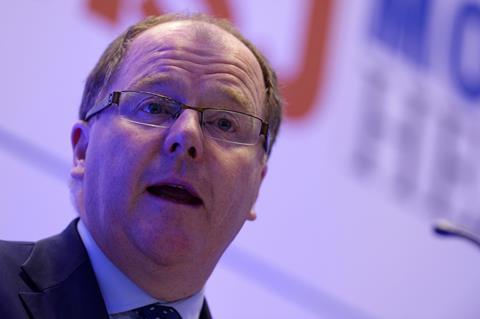 Speaking at an event organised by the Reform think tank at the London Stock Exchange on Tuesday, Mr Freeman said there needed to be a "deep partnership between the private and public sector".
He added: "In my party, we have to end the apartheid that suggests the private sector does all the innovation and entrepreneurship and the public sector just treats people…The NHS is the great engine of innovation that can drive that partnership."
The NHS should get "discounts" or even "royalties" from industry by partnering with companies to develop innovations, tapping into the service's clinical, genomics and informatics capabilities, he suggested.
Mr Freeman continued: "We will still have to have a debate about how we fund health and care in the 21st century… There needs to be a big conversation about the cost of this innovation.
"Unless we embrace a new model, unless we move from being a retail purchaser of innovation to a partner that cost [for the innovations required] will be prohibitive."
Moving the NHS to being a "partner, not a procurer" of innovation would require a "profound shift", Mr Freeman said. He set out a vision for funding innovation in care modelled on Sweden's.
He said: "Sweden pays for its health services from the revenues of its life science industry. I don't think we'll get to that point in the UK. We're a different sort of country… But that must be the vision that we use… to help us pay at least for the rising health costs."
He also said technology could fundamentally change the relationship between the NHS and its patients, who would be able to take more "responsibility" for their care.
"We empower [patients] with information, apps and tools in the palm of their hand. It isn't just a digital revolution, it's a quiet revolution of responsibility, of empowering citizens to be able to take more responsibility over their life choices," he said.
Mr Freeman said the system needed to "profoundly reward [leaders in the NHS] that did more for less".
He said: "Given the lack of headroom in the system, were [the NHS] a company, and I'm not suggesting it should be at all, it would borrow off the back of its balance sheet the money that it needs to do this innovation. It can't, so we need to turn that problem into an opportunity.
"Why don't we say to our inspired local health leaders: if you can reduce [your] Treasury agreed cost line of how much costs are going to go up in your area… then we will gain share; we will allow to keep and reinvest some of that saving back into your local health economy, rather than take it back to the Treasury."
He also said there needed to greater clinical leadership over health policy.
Mr Freeman was appointed parliamentary undersecretary of state for life sciences at the Department for Business, Innovation and Skills and the Department of Health in July 2014. He spent 15 years working in life sciences before becoming Conservative MP for Mid Norfolk in 2010.
UPDATED 15 June, 10:40am
Asked whether Mr Freeman's call for a debate around NHS funding would include questioning the principle of a free at the point of care health service, a Department of Health told HSJ: "There are absolutely no plans to charge for NHS care. The NHS will remain free at the point of use under this government."