Matthew Swindells says there would not be a "whole lot of complaining" if 2020 target is missed, but hit by 2023
Comments follow Wachter review calling for "unrealistic" 2020 target to be dropped
Jeremy Hunt sets out phased approach for digital strategy, with initial funding focus on high fliers
An NHS England board member has said there would not be a "whole lot of complaining" if a flagship digital target for the NHS to be paperless by 2020 was missed and instead achieved a few years later.
Matthew Swindells was responding to a question about a government commissioned review published yesterday which said the 2020 paperless goal was "unrealistic" and instead proposed a 2023 target.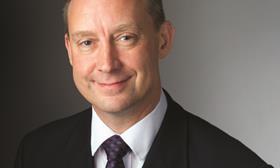 The organisation's director for commissioning and information told the Health and Care Innovation Expo the 2020 target would be do-able if "everyone steps up" but that if the last hospital made it by 2023, there would not be "a whole lot of complaining".
He added: "The way we are structuring it is that if everybody steps up we could do 2020, but the reality is that some organisations are a long way behind and need a lot of help.
"One of the things that [report author Bob Wachter] said in the report, not quite this bluntly, but effectively, was that there are some organisations I wouldn't give any money too until they've made some other steps forward.
"So there is going to be a start line that trusts will have to get over [first]. In a way I'm less interested 2020 versus 2023. I'm more interested in 'are we delivering systemic transformation?'
"And if the last hospital to be part of the systemic transformation comes in 2023, I don't think, with the exception of some online journalists, there would be a whole lot of complaining."
He told HSJ: "The Wachter review is an excellent piece of work. We will need to respond to it [formally in due course] because it has asked us to do a bunch of things, but I don't think there is anything in there which we profoundly disagree with. It's just a question of how and when we deliver."
Mr Swindell's comments follow NHS England's recently appointed chief clinical information officer Keith McNeil telling HSJ yesterday that the 2020 paperless target should not be entirely discarded, but that "achieving the whole piece for the whole of the NHS by 2020 is maybe a bridge too far".
He added: "We should certainly aim to [achieve the 2020 paperless target] but in aiming to do that, we need to be cognisant that we don't want to be driving at the target too fast. We should do as much as we can as quickly as we can."
System leaders have long viewed the 2020 target more as an aspiration to concentrate minds, rather than an absolute finishing point.
But the explicit acceptance that more time is needed suggests Professor Wachter's review has made an impact on how the central figures will approach the digital agenda.
Health secretary Jeremy Hunt also used his speech at Expo to respond the Professor Wachter's review. While not explicitly conceding the 2020 target would be dropped, he described the report as "sobering" and "too important to be ignored".
Setting out the government's response to the review, Mr Hunt officially unveiled the 12 digital "global centres of excellence" trusts which will receive up to £10m to "deliver pioneering approaches to digital services".
He said the aim would be for this "Ivy League" group to become digitally "world class" by the end of the parliament, and address the lack of world digital hospital leaders in the NHS highlighted in Professor Wachter's review.
He also revealed a further cadre of around 20 trusts would also receive central funding, around £5m per trust, in order to gain "national centre of excellence" status.
The desire to focus on the more digitally mature first, with the aim that they will then be able to assist the rest of the system, is in line with Professor Wachter's recommendations.
Mr Swindells insisted however that trusts not in the first two more digitally mature groups would not be "left behind" and could expect central funding.
Responding to a question from HSJ, he said: "[Trusts not in the first two groups] will be [able to] access money and development. I am not looking to have any child left behind here. We need to move everyone forward.
"We need to avoid obsessing about the acute sector, and start obsessing about community and mental health where the situation is worst."
He said "almost every" sustainability and transformation plan had at their core the "enhancement of out of hospital care". "It would be a mistake to think you solve out of hospital care by focusing on hospitals. We need to focus on systems."
He added: "That means care management, home nursing, community hospitals, primary care hubs, out of hours services, telephone services. All of those things will need investment and moved forward quickly if the STPs are to be successful."
Professor Wachter's long awaited review, published yesterday, says: "We believe the target of 'paperless by 2020' should be discarded as unrealistic. The goal is not paperless – it is improvement facilitated by having information where it is needed and when it is needed.
"Our advisory group was very concerned that an aggressive push to digitise the entire secondary care sector by 2020 was more likely to fail than succeed.
"Regarding timing, we have set 2023 as a reasonable date to have robust clinical information systems in all NHS trusts."
On central funding the report says: "While the Treasury's allocation…is generous in light of today's austerity conditions, we do not believe it is enough to complete the entire job."
A "rough calculation" is that "slightly more than £3bn, or nearly twice the [£1.8bn allocated for the paperless NHS project]" would be required from government, it says.
Wachter tells ministers: Discard 'unrealistic' 2020 IT target
1

2

3

Currently reading

NHS chiefs step away from 2020 paperless target

4