Tim Kelsey "predicts" NHS organisations should commit to making their estate free wi-fi zones if they want share of CSR £1bn
Outgoing NHS England director tells National Information Board summit free wi-fi could be "a core standard requirement/opportunity"
NHS organisations should commit to making their estates free wi-fi zones if they want a share of £1bn pledged for NHS technology projects in the spending review, NHS England's outgoing national director for patients and information has "predicted".
In a parting shot at his last official appearance as an NHS England director, Tim Kelsey joked that it would be "completely inappropriate" for him to answer a question about an area he has long championed.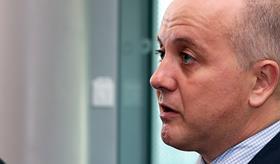 Mr Kelsey, who is taking up a private sector role in Australia next year, was asked about turning NHS buildings into free w-ifi zones at the National Information Board's annual summit yesterday.
He said: "What I would predict is that a significant amount of [the £1bn of additional capital investment] will be devolved to local health economies in order that they can begin to support development of the digital roadmaps, on which a core standard requirement/opportunity is free wi-fi. That would be my prediction."
The government pledged to allocate £1bn to NHS technology projects over the next five years in last month's spending review.
Mr Kelsey added that by March he hoped leaders of the board would be able to provide "much more specific proposals amongst which I would hope would be the outlines of the method by which some of that investment will be devolved to local health economies".
His comments came after Richard Main, informatics integration lead on Wakefield Clinical Commissioning Group, asked the summit : "How do we [roll out wi-fi across local NHS estates] at pace? Is there an opportunity to devolve that locally? If there is funding available, can that be devolved down?"
Mr Kelsey wrote an article in June that said: "Converting the entire NHS estate into a free wi-fi zone… will allow doctors, nurses and care staff to develop modern and dynamic ways of working, such as using tablets to record vital signs, helping to reduce the administrative burden currently estimated to take up to 70 per cent of a junior doctor's day, freeing up more time to be spent with patients.
"The installation of wi-fi will open up the possibilities for wearables to be used to monitor patients in clinical settings. For example, research shows that over a fifth of patients with diabetes will have experienced a largely avoidable hypoglycaemic episode whilst in hospital. This technology will help doctors to detect deterioration early and act without delay."
The summit was also told that there would be 90 commissioner led groups that will draw up digital roadmaps, which will set out how local health economies will be paperless at the point of care by 2020.
NHS England head of technology strategy Paul Rice said 52 of the groups involved one clinical commissioning group bringing together the providers within its borders, while 38 of the groups involved multiple CCGs. The biggest group involves 12 CCGs across Greater Manchester.
Technology £1bn could be tied to free wi-fi goal, Kelsey predicts
1

Currently reading

Technology £1bn could be tied to free wi-fi goal, Kelsey predicts

2