This is paid-for content from our commercial partners. Find out more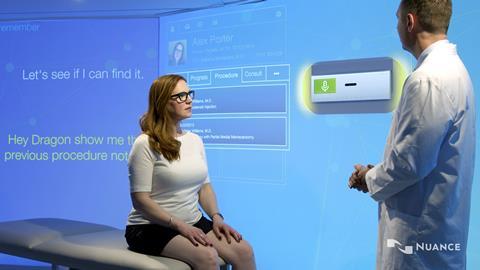 The use of Artificial Intelligence (AI) is quickly advancing across many areas of healthcare and its potential to transform services for both patient and clinician is widely acknowledged. Not only is it providing new pathways in treatment and care through diagnostics and wearables, but it can also augment the skills of clinicians while enabling more efficiency around documentation.
Sponsored by

Combining AI with speech recognition is leading to ground-breaking new ways of working. Nuance has now joined forces with Microsoft to transform healthcare and accelerate the delivery of Ambient Clinical Intelligence to create the clinic room of the future where documentation writes itself. The system, which can distinguish between voices, listens to the clinician and patient conversation before entering it into the patient's record as a clinical note. It is unique in enabling the clinician to focus on the patient without writing notes during the consultation.
But for the full potential of AI to be reached, a foundation of top-quality clinical data is vital. The annual report of chief medical officer Dame Sally Davies placed personalised data at the heart of her vision for the future of healthcare, suggesting we will evolve from electronic health records to an individualised electronic health engine, incorporating not just a patient's clinical data, but also social and economic determinants such as behavioural risks and genomic data. Therefore accurate recording of clinical information must become an automatic feature throughout the patient journey.
Research shows that clinicians can spend up to 50 per cent of their time on documentation[1] compared to 13 per cent with their patients. Good quality speech recognition is key to supporting clinicians with their documentation process, providing accurate notes and data, while freeing up time for clinicians to interact and take care of patients.
At Homerton University Hospital NHS Trust, Nuance's Dragon Medical One secure cloud-based speech recognition platform has helped to transform the trust's documentation process. Letters to GPs and patients, which once took several weeks are now turned around within two to five days. Outsourced transcription costs have fallen and the need for additional secretarial support to cope with backlogs has significantly reduced. [2]
At Oxford University Hospitals NHS Foundation Trust, the solution is boosting the trust's 'Go Digital' programme, set up to enable the paper free NHS vision and ensure electronic patient records are accessible across different platforms.
The software has transformed the average 12-day turnaround of clinical letters to GPs to three days. As well as being more efficient, the trust no longer needs to outsource the work and so has made significant financial savings. It was piloted in the nephrology department but is now being rolled out across the whole of the trust's 6,000 clinicians.
By providing AI solutions that surround care teams with intelligence from the first word to the last code, Nuance's Dragon Medical One is helping to transform care services, save clinician's time and make vital financial savings at a challenging time for NHS trusts.
For more information on Nuance's conversational AI solutions, please visit here
About Nuance Healthcare
Nuance provides intelligent systems that support a more natural and insightful approach to clinical documentation, freeing clinicians to spend more time caring for patients. Nuance healthcare solutions capture, improve, and communicate more than 300 million patient stories each year, helping more than 500,000 clinicians in 10,000 global healthcare organizations to drive meaningful clinical and financial outcomes. Nuance's award-winning clinical speech recognition, medical transcription, CDI, coding, quality, and medical imaging solutions provide a more complete and accurate view of patient care. For more information please visit here
About Nuance Communications Inc.
Nuance Communications (NASDAQ: NUAN) is the pioneer and leader in conversational AI innovations that bring intelligence to everyday work and life. The company delivers solutions that understand, analyze, and respond to people – amplifying human intelligence to increase productivity and security. With decades of domain and AI expertise, Nuance works with thousands of organizations globally across healthcare, financial services, telecommunications, government, and retail – to empower a smarter, more connected world. For more information, please visit www.nuance.com.
Source Date
[1] https://www.nuance.com/content/dam/nuance/en_uk/collateral/healthcare/white-paper/wp-the-clinical-documentation-challenge-uk-2015-en-uk.pdf
[2] https://www.nuance.com/content/dam/nuance/en_uk/collateral/healthcare/case-study/ss-hc-homerton-university-hospital-en-uk.pdf

Dr Simon Wallace is chief clinical information officer, Nuance Communications.