Dean Street PRIME, a sexual health clinic that is part of Chelsea and Westminster Foundation Trust, commissioned an online series that explores the complexities of modern gay sex lives, and won the 2018 HSJ Awards for Patient Digital Participation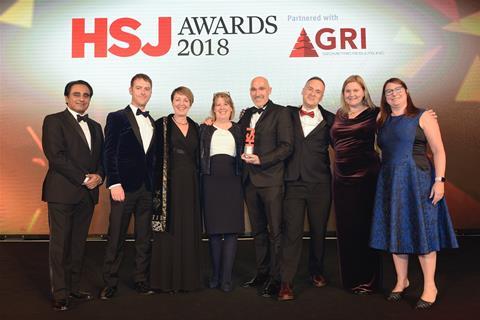 This month, thousands of men across the capital were alerted to a new online series to which their PRIME subscription gave them access. Season two of The Grass is Always Grindr returns to the story of Joe and Adam and, in so doing, explores some of the possible complexities of modern gay sex lives.
This 12-part series is not the brainchild of some international content streaming giant, however. Instead it was commissioned by 56 Dean Street, a sexual health clinic that is part of Chelsea and Westminster Foundation Trust and which won the 2018 HSJ Award for Patient Digital Participation.
The Grass is Always Grindr forms but one part of a digital programme specifically tailored to gay men at very high risk of contracting HIV. Dean Street PRIME launched in early 2016, when there had been almost a decade of year-on-year increases in the number of gay men in London testing positive.
There was a belief that educating men identified as being high risk about all their options would cut infection rates
Explains Alan McOwan, lead clinician at 56 Dean Street: "The team had spotted through various audits that there were certain groups of people at super high risk of infection, and we felt we should be doing something more for that group."
The desire to do so was further fuelled by the arrival of pre-exposure prophylaxis – a drug that reduces the risk of contracting HIV – and post-exposure prophylaxis, which can be taken following unprotected sex and can stop infection.
"Previously it was basically: 'Use condoms or don't have sex,' and suddenly we had all these other things open to us," remembers Dr McOwan.
There was a belief that educating men identified as being high risk about all their options would cut infection rates. Equally, there was an understanding that the group was too large to use conventional approaches.
"We modelled it as being about 4,800 people. On one level, we thought that wasn't that many people to capture. But also 4,800 was a lot of people for the service; we couldn't possibly do what we were doing already, offering people one to one counselling and so on – you just couldn't do it at that volume."
Discrete package
And so the team turned to digital. The PRIME website clearly details five options available to men at high risk. They are encouraged to pick one, and given support to continue with it. That includes a monthly text message which gives priority access to Dean Street's clinics: PRIME members can walk in without a reservation.
"We absolutely did say this is a key group of people and we are going to offer them a discrete package of care that is different from everybody else," explains Dr McOwan.
"I think probably the key to the success of the programme was that we gave people easier access to our services. But obviously that priority access meant the whole team had to be on board.
"So we took it to our heads of department meeting, which is essentially the multidisciplinary team, where we worked it through, and said: 'What is practical for us to offer as a service?'"
I'm not exaggerating when I say PRIME has changed my life. If you could see my medical records before and after PRIME… it's astonishing
There were extensive discussions with service users too. A central theme: getting the language right.
"The key thing was about speaking to people in their own language. It was making sure you were giving correct, unbiased information that sounded professional. You didn't want to sound like you were talking down to people, but simultaneously you didn't want to be sound like you were trying to speak to a 15-year-old school kid in their lingo."
It meant one possible name for a course of action outlined on the site – having only one partner – was quickly ditched. Monogamy is instead termed "Just the Two of Us". Explains Dr McOwan: "We very much had to choose a voice, and the voice we came up with was like your big brother or your best friend. We tried to make it that sort of peer voice."
The indications are that it's a voice which has resonated. HIV diagnoses at 56 Dean Street dropped by 81 per cent between 2015 and 2017 and Public Health England research found less than one per cent of PRIME users have been infected with HIV.
Indeed, PHE has been sufficiently convinced of the virtues of the approach that it's given £35,000 of funding for the second series of The Grass is Always Grindr. Dr McOwan says the HSJ Award win has helped with those sorts of conversations.
"I think being able to say it won an award gave the project some credibility, if you like – some recognition."
It was something that it's already received from service users. Says one: "I'm not exaggerating when I say PRIME has changed my life. If you could see my medical records before and after PRIME… it's astonishing."
The 2019 HSJ Awards are now open for entries. To find out more about the Digitising Patient Services Initiative category visit https://awards.hsj.co.uk/categories
To read more about Chelsea and Westminster Foundation Trust's winning entry visit HSJ Solutions