Professor Anoop Chauhan, winner of the Clinical Leader of the Year category at the 2019 HSJ Awards, has been the force behind the Portsmouth Hospitals Trust's stellar growth in clinical research, notes Jennifer Trueland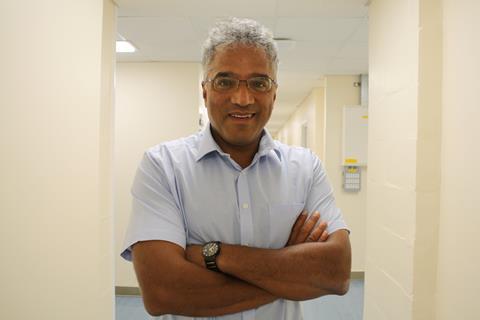 When Anoop Chauhan was named clinical leader of the year at the HSJ awards, probably the only person who was surprised was the man himself.
Although often described as brilliant with a talent for leadership, Professor Chauhan is also known for his modesty about his achievements. Indeed, one tweeting GP summed it up just after the event, describing him as "the most humble and inspirational" leader of the year.
Professor Chauhan is a consultant in respiratory medicine at Portsmouth Hospitals Trust, where he is also director of research and innovation. His other roles include being commercial lead for Wessex Clinical Research Network and respiratory lead for the Wessex Academic Health Science Network.
He has a talent for bringing together groups of individuals and organisations to find and implement innovative solutions to meet the needs of respiratory patients, all underpinned by his own experiences as a clinician. Patients, industry, commissions, improvement experts and other healthcare professionals are among those he calls colleagues in his attempt to improve services and speed up adoption of new technology – all with the aim of benefiting people with respiratory conditions.
Driving research activity
More broadly, and since taking on the director of research and innovation role, he has driven an exponential growth in research activity within Portsmouth Hospitals Trust and has enabled large numbers of people to take part in locally developed research and clinical trials.
The statistics are impressive: in 2018-19 there were around 11,000 people recruited to trials, up from 1,000 in 2008-09 and the trust consistently exceeds recruitment performance targets agreed with the Clinical Research Network. Respiratory is a national exemplar – in the last four years, the majority of patients recruited to respiratory trials in England have come from PHT.
This performance has been possible partly because of Professor Chauhan's efforts to support the trust to manage within the constraints of tight resources by proactively winning external funding to help deliver the local research agenda.
Patients in Portsmouth are already benefiting from this. One good example is the MISSION ABC initiative which proactively identifies people with respiratory conditions such as asthma, breathlessness and COPD and invites them to see a multidisciplinary secondary care team, working with primary care, with the aim of speeding up diagnosis and improving management. This innovative screening programme has picked up many cases of people with previously undiagnosed respiratory problems and has had a remarkable impact on health service usage, particularly for unscheduled care. The MISSION ABC project also featured in this round of HSJ awards, taking the top honour in the acute sector innovation category.
This performance has been possible partly because of Professor Chauhan's efforts to support the trust to manage within the constraints of tight resources by proactively winning external funding
Professor Chauhan's efforts have helped the trust to punch above its weight in terms of research. Not only is Portsmouth Hospitals Trust in the top 10 of acute trusts reporting the biggest increase in research activity, but it is ranked 21 in the national league table. This means it is above many trusts with allied medical schools.
Part of this is down to collaboration and engagement, particularly with staff and patients. Initiatives include giving staff the opportunity to participate in research management team meetings and other communication channels to encourage staff to bring their ideas and ask questions and give feedback, improving understanding all round. The trust's patients research ambassador group is also award-winning, and ensures that patients' opinions are heard at all stages of the research process.
Modestly, Professor Chauhan gives credit to his colleagues, patients, and family for the trust's recent HSJ awards win, including the personal accolade of clinical leader of the year. "These awards are a great recognition of the hard work and dedication of our team, who have developed and delivered this wonderful initiative, that has improved the lives of so many of our patients," he says, speaking of MISSION ABC.
"On a personal level, to win HSJ Clinical Leader of the Year is very special. The award recognises the research journey I have been on with the many friends, family and patients who have been involved.
"Portsmouth is a special place, and we have a great hospital with an opportunity to do some wonderful things. We have a lot still to do, but before we start again, we will take a moment to pause and celebrate."
Click here to find out more about how to enter the HSJ Awards 2020.