Entries have opened for the most sought-after accolades in healthcare.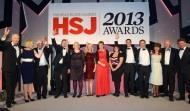 Now in their 33rd year, the HSJ Awards recognise and reward best practice in healthcare organisations throughout the country.
We invite you to nominate examples of innovation and excellence in your organisation that have made a real difference to your patients and staff.
Your entries will be judged by our experts and your peers and your achievements will be celebrated at an awards ceremony in London on 19 November.
Why enter the HSJ Awards?
Winners tell us the recognition gives a huge boost to their teams and organisations. An accolade can enhance projects, raise morale, and helped with securing backing and finance.
In an ever more challenging financial and structural NHS landscape, sharing best practice with your peers and never been more important. The HSJ Awards are a platform to showcase your successes.
It has never been easier, with our new simplified entry process.
Entries are open until 23 June.