Sherwood Forest Hospital Foundation Trust worked towards identifying patients with a learning disability to provide them tailored care and won the Enhancing Care by Sharing Data and Information category at the 2018 HSJ Awards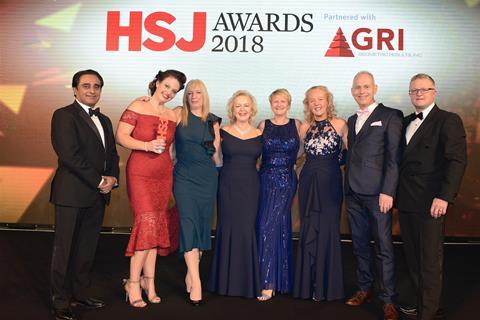 Going into hospital is a scary and unsettling experience for many of us – but can be much worse for people with learning disabilities.
Health services should make provision for this but to do so need to know whether a patient has any special needs and what needs to be done to accommodate those. Very often this information is not available in advance especially if the patient is new to that hospital, leading to a difficult admission or appointment.
But in one area of the country that is changing, thanks to a scheme where information from GPs is shared with the hospital and patients are identified ahead of their visit, enabling plans to be put in place. In one case, for example, a patient who is particularly nervous about hospitals has been enabled to bypass the accident and emergency department and go straight to the department where he needs treatment.
Learning disability specialist nurse at Sherwood Forest Hospitals Foundation Trust Ruth Harrison knew that primary care was likely to be aware of patients with learning disabilities who were not on the registers the trust maintained. Being able to identify patients with a learning disability would enable the trust to provide much more tailored care for them – as a minimum making "reasonable adjustments" for their disability but in reality going beyond this.
And it was these coordinated and sustained efforts that led to Sherwood Forest Hospital Foundation Trust winning the Enhancing Care by Sharing Data and Information category at the 2018 HSJ Awards.
Letters sent to patients about appointments could be rewritten to be more suitable for this group, phone calls in advance could help plan appointments to run more smoothly and deal with any concerns, and carers could be brought into the conversation. Better communication might also reduce the trust's did not attend rate.
Governance structure
The difficulty was that sharing this information required an appropriate information governance structure. A consent letter was designed and distributed to practices to enable them to discuss it within the annual health review for patients with learning disabilities. In some cases where capacity to decide to share information was an issue, the flag could be applied because it was in the best interests of the patient.
Ms Harrison's background as a primary care liaison nurse meant she had good relationships with several local practices which were enthusiastic about the project and willing to be early adopters. As other projects saw the value, they too joined.
Within the hospitals around 40 "champions" came forward for training in how they could help people with learning disabilities and make improvements in their own areas.
Inevitably, the system does not pick up everyone with a learning disability but overall there is a much higher chance they will be recognised and care will be more personalised to them. The trust has also seen DNA rates decrease.
Winning the HSJ award was a welcome surprise for the trust. Ms Harrison says: "We were completely over the moon, it was most unexpected – even to be on the short list was immense. "
What made the award particularly special, she says, is that learning disabilities is often seen as a Cinderella service. "It has driven us to do a lot more things including work around sepsis," she says. "It has spurred us on!"
Ms Harrison hopes the improved profile of learning disability nursing will eventually feed through to degree courses and lead to more applications in a field which traditionally finds it hard to recruit. But, as she points out, people with learning disabilities will have physical health problems as well and the rest of the NHS needs to ensure they get good care. "When I was doing my learning disability training, it always seemed to be around residential homes and day centres not about wider health settings," she says.
The judges were impressed by the team's presentation which they described as "passionate and refreshing."
"This powerful project felt very close to the coalface and judges enjoyed the absolute focus on the qualitative impacts, almost to the exclusion of monetary/quantitative gains," they said. "It described very well the small incremental steps that are providing the catalyst for the improved wider patient journey. It had a very local and real impact which is described and felt throughout the organisation and beyond. This addressed practical inequalities which isn't always an easy area to touch."
Since the trust entered the HSJ award, the red flag service has also been extended to people with complex needs such as autism and attention deficit hyperactivity disorder – another group for whom hospitals visits may be intimidating.
The scheme is now being shared more widely, with NHS Improvement keen to promote it, Ms Harrison believes it is replicable but needs local "drivers" who appreciate what is needed. "I had key people to work with," she says. "The matrons, the patient service manager… you need to find those key people in a service."
The HSJ Awards are now open for entries. For more information on the Connecting Services and Information category visit https://awards.hsj.co.uk/categories
To read more about Sherwood Forest Hospital Foundation Trust's winning entry visit HSJ Solutions