"High risk" maintenance problems up 30pc year on year, as capital investments falls
Estates director warns "make do and mend" approach to maintenance will impact safety
Imperial College Healthcare would have to spend £39m to deal with high risk backlog
NHS providers face costs of more than £450m to deal with a backlog of "high risk" maintenance problems, an increase of almost 30 per cent on the previous year.
According to trust estates data submitted to the Health and Social Care Information Centre, the high risk backlog reached £458m in 2014-15, compared to £357m in 2013-14, and £353m in 2012-13.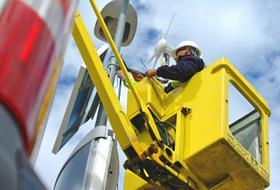 This covers repairs or replacements that must be addressed urgently to "prevent catastrophic failure, major disruption to clinical services or deficiencies in safety liable to cause serious injury and/or prosecution".
Capital investment to deal with backlog maintenance reduced by 6 per cent last financial year, and 12 per cent the year before. Last week, HSJ revealed the Department of Health was potentially lining up further raids on capital budgets.
One estates director told HSJ that NHS trusts have found capital funding more difficult to access from commissioners and the DH.
He said: "We are also seeing foundation trusts not having the flexibility to invest their surpluses any more because the finances are being squeezed so much.
"Most are pulling back on capital investment and being much more selective. This means there's more of a make do and mend approach to maintenance when the right and more cost effective way of doing things is to fix things properly in the first instance."
He feared some hospitals will suffer fires and power outages due to ageing electrical plants, while old boiler systems will continue to rack up extra heating costs.
Analysis by HSJ shows Imperial College Healthcare Trust would have to spend £39m to eliminate its high risk backlog, the highest for any provider (see table). Almost half of the estate at its St Mary's Hospital, and a third at Hammersmith Hospital, is more than 65 years old.
A spokesman said: "Reflecting our growing concern about backlog maintenance, we have increased the budget we allocate to it and are carefully prioritising to ensure continued patient and staff safety.
"But we need a fundamental overhaul of much of our estate to bring the quality of our facilities up to the standards of our clinical care. The trust is currently progressing a business case for a major investment in our estates."
Top 10: Trusts with biggest high risk backlogs as percentage of turnover, 2014-15
Trust
Costs of high risk backlog (£m)
High risk backlog as % of turnover
Costs of total backlog (£m)
Total backlog as % of turnover
North Cumbria University Hospitals
29.4
11
35.0
13
Hinchingbrooke Health Care
7.0
6
11.9
11
London North West Healthcare
21.6
6
153.9
44
University Hospitals of Morecambe Bay FT
15.7
6
59.1
21
Wye Valley
9.4
5
19.0
10
Birmingham Women's FT
4.8
5
11.8
12
Derbyshire Community Health Services
4.3
5
9.1
10
Birmingham Community Healthcare
11.5
4
22.9
9
Royal Bournemouth and Christchurch Hospitals FT
11.8
4
28.0
11
Imperial College Healthcare
39.2
4
391.4
39
The £29m cost faced by North Cumbria University Hospitals' was the largest as a proportion of turnover, at 11 per cent. The trust did not respond to our enquiries.
London North West Healthcare Trust, which faces costs of £22m, or 6 per cent of turnover, said it has made several major investments recently and is "making steady progress".
It added: "The trust keeps under review its corporate risks to ensure that patient and staff safety and quality of care are never compromised."
Hinchingbrooke Health Care Trust said that its major problem was addressed in September, with the installation of a £4.3m heat and power unit. The trust's backlog bill was £7m, which represented 6 per cent of turnover.
Wye Valley Trust, where the £9m costs represent 5 per cent of turnover, said it has recently announced a new estates strategy for Hereford Hospital, which would ease its main problems.
A spokesman added: "The trust's capital allocations have been low as a proportion of turnover for a number of years, resulting in a build-up of backlog maintenance costs.
"The trust's financial position, including the requirement to make [private finance intiative] capital repayments, has made it difficult for the trust to afford to invest in the capital renewal of its non-PFI sites."
Birmingham Women's FT said the bulk of its backlog maintenance was "mostly due to an old legacy estate", and will be resolved via plans for a new hospital.
A spokeswoman said: "There is no point in spending money on backlog maintenance on an old estate, which the board has signed up to demolishing and replacing."
Maintenance spending has been minimised for similar reasons at Birmingham Community Healthcare Trust, where a new dental hospital is nearing completion.
Royal Bournemouth and Christchurch Hospitals FT said its backlog issues are "not serious" and there are major development plans for Christchurch Hospital next year. It said the level and detail of capital investment will be dependent on the outcome of the Dorset clinical services review next year.
Derbyshire Community Health Services said nearly all its backlog related to Heanor Hospital, which has already been demolished ready for a brand new build, and Walton Hospital in Chesterfield, which is this month beginning a phased redevelopment of the whole site.
A Department of Health spokesperson said: "Local NHS organisations manage their funding, including the amount invested in maintenance, and we expect them to prioritise areas of high risk. Where trusts need additional funding for capital projects they can apply for it from the government."
The costs to eliminate all backlog maintenance, which also included low, moderate and significant risk, increased by 7 per cent last year, to £4.3bn. The HSCIC data was given for each hospital site, and HSJ collated the data for each trust.
This story has been updated to include a comment from Derbyshire Community Health Services.