Jim Mackey says NHS Improvement will "do all we can" to ensure consistent implementation
He says Sir David Dalton deserves the full support of trust chief executives and chairs
Mr Mackey calls social media attacks on chief executives "unacceptable and unprofessional"
The chief executive of NHS Improvement has called for the new junior doctors' contract to be implemented "consistently" across the health service.
In a letter to trust chief executives and chairs, obtained by HSJ, Jim Mackey also called on providers to offer their "full support" to Sir David Dalton following the collapse of negotiations with the British Medical Association and the decision by the health secretary to impose a new contract from August this year.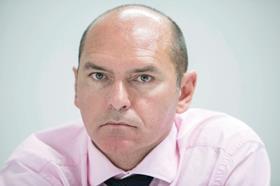 He called on chief executives to play their part in "helping pull colleagues together again after this difficult process and ensure consistent implementation across the NHS".
He also appealed for help in stopping what he described as "unacceptable and unprofessional" personal attacks on social media following the publication last week of a list of 20 chief executives who Sir David said supported his position on the junior doctor contract.
Mr Mackey's letter, sent to trusts last night, came amid speculation some foundation trusts might exercise their freedom not to impose the new contract.
A statement by Peterborough and Stamford Hospitals Foundation Trust deputy chief executive Carole Walker, published today, suggested the trust had yet to make a final decision on implementing the new contract.
She said: "As a foundation trust all contracts offered to staff are left to our discretion. However, we will be monitoring the national and local position in the decision process with regards to any contracts offered to junior doctors.
"At this time no decision has been made, but we would like to reassure patients that high quality of care and their safety is our priority."
In his letter Mr Mackey said: "This has, understandably, been a time of conflict and disagreement. The contract proposal from David actually confirmed agreement on over 90 per cent of the key points. We must all now work together, across all professional groups, to help the service implement the contract consistently and address the concerns raised by junior doctor colleagues."
He described the NHS as the "world's best clinical education system", adding: "I know that, from talking to colleagues over the last few days, we all want this to continue and must maintain this system and implement the contract consistently across the country. We will do all we can to ensure that this is done effectively."
Mr Mackey said Sir David had taken on an "unenviable task in trying to reach a mutually agreed solution and did a great job in moving things on as far as he did. I have thanked David personally for this and we should all now get behind his proposals. He deserves our full support."
Last week, following the publication of Sir David's letter to the health secretary, 15 of the chief executives named as supporting his offer and calling for certainty publicly distanced themselves from the government to impose the contract.
One chief executive told HSJ Sir David had "gone a step beyond what we had agreed" when he said they supported his position, which included urging the government to do all "it deemed necessary" to end the dispute.
Mr Mackey said: "I understand that some colleagues have been subject to personal attacks on social media, associated with the contract dispute. I am sure that you all agree that this is unacceptable and unprofessional so, again, would urge you to help stop this if you see evidence of such behaviour."