Health secretary says Brexit gives an opportunity for professional regulation reforms
David Cameron promised reform of Nursing and Midwifery Council after 2013 Francis inquiry
Jeremy Hunt says it was important government made changes to speed up responses
Brexit could offer the government an opportunity to reform professional regulators, the health secretary has said.
In an interview with HSJ, Jeremy Hunt criticised the regulators for the speed they deal with issues brought to their attention, but accepted the government had so far failed to find parliamentary time to make changes.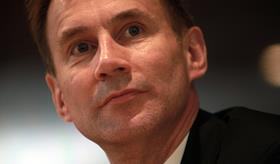 Following the 2013 Francis report into poor care at Mid Staffordshire, David Cameron pledged to "sweep away the Nursing and Midwifery Council's outdated and inflexible decision making processes."
In response to being asked if there was unfinished business following the Mid Staffordshire scandal, Mr Hunt said: "If there is an area where there is legitimate cause for concern, it is the speed at which the NMC and [General Medical Council] act in certain situations. In that respect, it is partly my fault because they have been arguing for a long time for improvements in their legislation to allow them to speed up the way in which they look at cases brought to their attention by the public, and we have committed to do that, but we haven't been able to find a legislative slot yet."
Mr Hunt said the government "definitely" needed to make the changes, and added: "Not that I supported it, but there is a Brexit induced opportunity here because we will have to relook at all the regulations post-Brexit."
He said the GMC were keen to make changes to the rules around when a foreign doctor can work in the UK. "There are things like that to which I am very sympathetic towards," Mr Hunt said.
Earlier this year, the previous chief executive of the GMC Niall Dickson said: "I've got four words for the government: get on with it."
HSJ understands the government is keen to press on with reforms including rationalisation of regulators.