Department of Health budgets outside NHS England - worth £15.1bn - face a £2bn cash terms cut by 2020-21
Health Foundation calculates real-terms cut at 21 per cent
The non-ringfenced budgets cover spending areas including public health, health education, and arm's length bodies
Capital budget will be frozen in cash terms over spending review period
Think tanks describe move as "massive exercise in robbing Peter to pay Paul"
The removal of protected status from all Department of Health budgets not controlled by NHS England will see the pot of money that pays for health education, public health, and capital projects subjected to huge cuts over the coming half-decade.
Spending review documents published this afternoon show that a significant chunk of the £8bn of extra funding promised to NHS England will be secured by cutting the £15.1bn of non-ringfenced funding in the DH budget by £2bn in cash terms by 2020-21.
The Health Foundation think tank has calculated that this amounts to a real terms cut to non-NHS England budgets of 21 per cent over the five year period.
The worst of those cuts will fall on the £10.3bn pot of DH revenue funding that pays for things including health education, public health, and the operation of arm's length bodies such as the Care Quality Commission.
According to the DH entry in the spending review 'blue book', that £10.3bn pot will be cut to £8.8bn in 2016-17 – a cash terms cut of 15 per cent.
In the same year, NHS England's budget will rise by £5.5bn to £106.8bn, the blue book shows.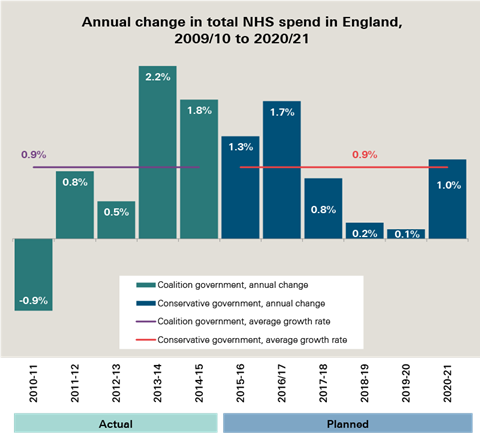 Over the five years to 2020-21, NHS England's budget will rise to £119.9bn, while the pot of non-ringfenced DH money will fall further to £8.3bn.
Capital spending will be frozen in cash terms at £4.8bn a year.
While full detail of where these cuts will fall is yet to shake out, the spending review makes clear that health education and public health – two of the biggest areas of DH spending outside the newly defined ringfence – will take some of the pain.
Health Foundation chief economist Anita Charlesworth told HSJ: "This is a massive exercise in robbing Peter to pay Paul."
She said that while NHS England stood to receive a real-terms increase of around £10bn since 2014-15, "much of that increase is coming from very substantial cuts in other areas". She added: "Wider non-NHS England budgets appear to have been cut by around 20 per cent in real terms".
She told HSJ that the blue book confirmed there would be 3.9 per cent a year real terms cuts to DH public health spending, adding: "Cutting public health is a complete false economy. Around a fifth of the NHS budget is already spent on problems arising from poor public health.
"Improving health outcomes and delivering a sustainable NHS requires a transformation in our population health."
King's Fund chief economist John Appleby said: "It looks like the NHS as a whole [including non-NHS England budgets] has ended up with more or less the same average real rise in this parliament as it got in the last parliament.
"The big issue is that they're starting from a much more difficult position. This year – as we know – there are big deficits. Next year the NHS is hit with a pensions cost as well. So it's the same real increase on average per year of about 0.8 per cent, but they're not starting from such a favourable position."
Delivering his spending review announcement this afternoon, chancellor George Osborne said that securing "best value" for the money spent on the NHS meant a "25 per cent cut in the Whitehall budget of the Department of Health".
But Nuffield Trust chief executive Nigel Edwards said the impression that this was "simply a cut in the DH's administrative spending" was misleading.
He added: "The Treasury's figures show it actually represents a £1.5bn cut in a single year to budgets that include training for doctors and nurses, and important preventive measures like stop smoking services and programmes to combat obesity.
"Yesterday's announcement by the Chancellor of £3.8bn of extra funding for the health service sounded generous, but it is now clear this may have come at the cost of services that the NHS depends on. Behind yesterday's glowing headlines, there are some big unanswered questions."
The blue book described the cuts as "savings" from the DH's "central spending outside the NHS Mandate, which will free up resources for the front line NHS".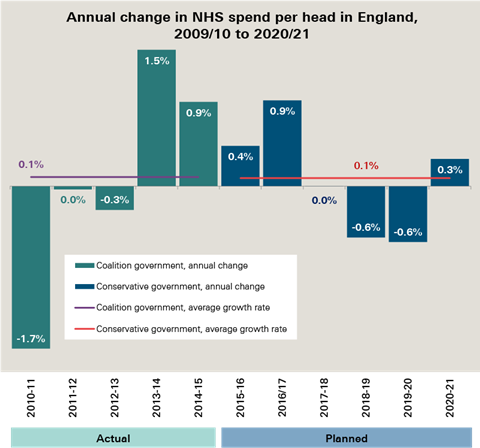 It added that as part of these savings the government would "reform the funding system for health students by replacing grants with student loans and abolishing the cap on the number of student places for nursing, midwifery and allied health subjects". It added that the spending review would "finish the job" of reforming the public health system, "delivering average annual real-terms savings of 3.9 per cent over the next five years".
It continued: "Across the country, councils have already begun to develop new ways to deliver public health, showing that it is possible to deliver better health for local people and also better value for the taxpayer, but there is more to be done. Councils can seek to deliver efficiencies in this area, and can learn from best practice. So it is right that as the government eliminates the deficit, all funding is spent in the best way possible."
Spending review reveals '21 per cent cut' to non-NHS England health budgets
1

Currently reading

Spending review reveals '21 per cent cut' to non-NHS England health budgets

2

3

4

5

6

7

8

9