The Number 10 policy adviser's HSJ articles
Nick Seddon was yesterday appointed policy adviser at Number 10, instantly elevating him to one of the most influential positions in UK health.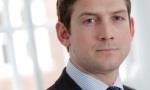 The appointment has already proved controversial though, as Mr Seddon is currently deputy director of the pro-market think tank Reform.
To help you understand the thoughts of the man who has the ear of the prime minister, we present a selection of the articles Mr Seddon has penned for HSJ.
All these articles are available to registered users of hsj.co.uk. Register for free here.