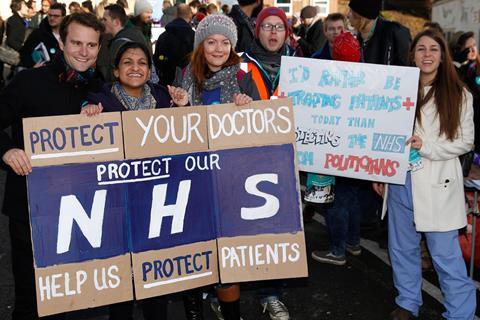 The strike times are:
from 8am 9 March to 8am 11 March (emergency care only);
from 8am 6 April to 8am 8 April (emergency care only); and
from 8am 26 April to 8am 28 April (emergency care only).
The doctors' union said it planned to take the government to court following what it claimed was an "embarrassing revelation" that the government had failed to undertake an equality impact assessment prior to its decision to impose the new contract from August.
In a statement on Tuesday afternoon, the BMA said the government was required under the Equality Act 2010 to show "due regard" to equalities issues and argued that ministers had "failed to provide evidence of an [equality impact assessment] having been conducted" ahead of the decision earlier this month to impose a deal.
Johann Malawana, the chair of the BMA junior doctors' committee, said: "In recent weeks I have heard from thousands of junior doctors across the country, and the resounding message is that they cannot and will not accept what the government is trying to do.
"It now appears that in trying to push through these changes the government failed to give proper consideration to the impact this contract could have on junior doctors. This is yet another example of the incompetence which the government has demonstrated throughout its handling of this dispute."
Dr Malawana said the government must re-enter talks with the BMA to address outstanding issues.
The government decided to impose the contract after Sir David Dalton said the BMA was refusing to negotiate over plain time Saturday working.
A Department of Health spokesman said: "Further strike action is completely unnecessary and will mean tens of thousands more patients face cancelled operations – over a contract that was 90% agreed with the BMA and which senior NHS leaders including Simon Stevens have endorsed as fair and safe. The new contract will mean an average 13.5% basic pay rise, and will bring down the maximum number of hours doctors can work.
"We urge junior doctors to look at the detail of the contract and the clear benefits it brings."
NHS Employers admits junior doctor pay calculator may be inaccurate
1

2

Currently reading

BMA plans three strikes and legal action over contract imposition