Leading academic says loss of nursing bursary has affected student attrition
Adds it has also made certain nursing and allied health courses vulnerable
Warns against unclear and "knee jerk" funding announcements in the future
The lack of national funding to support the living costs of registered student nurses is the main factor behind the drop out rate from courses, a nursing education expert and leading academic has warned.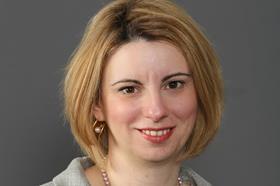 Katerina Kolyva, executive director of the Council of Deans, told HSJ that, it was during the second year of a nursing degree — when "the pressures are high financially" — was when most students decide to "change programme or leave".
"When you ask them, they say they couldn't afford the living costs," Dr Kolyva said. "I don't think students have an issue paying tuition fees. Their issue is with the cost of living."
Dr Kolyva said the Council of Deans — which represents UK universities that are engaged in education and research for nurses, midwives and allied health professionals — wanted the reintroduction of a maintenance grant for student nurses.
In a recent joint report, the three main health think tanks called for a £5,200 cost of living grant to be made available for student nurses, on top of the current means-tested loans system.
In 2015, the nursing bursary was scrapped and funding was switched to student loans, as part of reforms to lift what then chancellor George Osborne described as an artificial cap on student numbers.
Dr Kolyva said this change in funding also resulted in "significant changes and vulnerabilities" in particular nursing and allied health courses.
"Mature students have dropped and specific disciplines have suffered more, [particularly] learning disability nursing and podiatry," she said.
HSJ reported earlier this year there are ongoing high-level government discussions to reform financial support for NHS student nurses.
However, Dr Kolyva warned, despite "hearing positive noises from NHS England", there was a risk an announcement "would have a price tag next to it and then the implementation is not clear".
"What we have found over the last couple of years in particular [are] knee jerk announcements, one after the other," she said.
Dr Kolyva gave the example of the uplift in continuing professional development funding announced in September's spending review, which she described as "a small reinstatement".
"The figure we all heard was £210m, but we realised it was £150m plus £60m for strategic central stuff. £150m for staff over three years is £333 per person per year," she said. "I would like better clarity."
In contrast, Dr Kolyva said, was the nursing associate scheme, which "came with backfill and support" and "had been invested in as a priority for this government".
"Our members have told us this initiative is about social mobility," she said. "[Some nursing associates] had been healthcare support workers for years."
However, she stressed the need for the scheme to be evaluated.
"We need to make sure nursing associates are used in a way that is good for their progress and good for patient safety," Dr Kolyva said. "We want every profession to be clear about its limits and levels."
The universities' perspective
Although supportive of the additional clinical placements NHSE announced earlier this year, Dr Kolyva said they were revealed late in the recruitment cycle, which meant some members were unable to use them.
"From a university perspective you have to plan the staff to teach those programmes and you have to have the labs," she said. "We have some members who are agile enough but not everyone can do that."
In terms of international recruitment, Dr Kolyva said there is a concern at university level for the implementation of the right migration policies to support the recruitment of students and staff.
"For the system as a whole this is a very important issue," she said. "We want the legislation to [make here a] place where we welcome those people."
She added, despite the importance of international nursing professionals in the NHS workforce, the focus of the government must be investment in the domestic supply.
"Financial investment but also an understanding of the issues and unblocking them," she said.
This article was corrected on 11 November to remove errors we made about attrition rates and in the editing process. An incorrect attrition rate was attributed to Health Foundation/Nursing Standard work.