Sir David Dalton says new contract should be introduced after negotiations were "exhausted"
Salford Royal chief executive says the BMA was not serious about negotiating a deal
Criticises social media commentary as "distasteful" and unhelpful
Calls for NHS leaders to meet with their staff to address low morale
Sir David Dalton has explicitly backed the government's decision to impose a new contract on thousands of junior doctors. He said he believed the British Medical Association was not serious about reaching a deal.
In an interview with HSJ, the high profile and widely respected chief executive of Salford Royal Foundation Trust said it was right for the government to act despite at least 10 chief executives, named as supporting the final offer yesterday, distancing themselves from imposing a contract.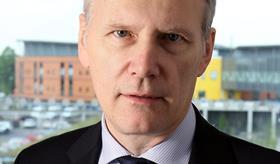 Sir David described claims that trainee doctors will be paid less and made to work longer as "nonsense", saying the government's position had moved substantially from where it was last year with multiple new safeguards.
Sir David urged junior doctors to consider the new contract "in the cold light of day", adding he believed it was "fair and reasonable".
Trust chief executives across the NHS also need to meet with their own junior doctor workforce, he said, to help tackle wider issues of morale. Sir David said morale was an important but separate issue to the employment contract.'
Explaining why he backed imposing a new contract, he said the process of talks with the BMA had been "exhausted". He said: "I can't see that the BMA were minded to reach a negotiated settlement on the issues that the government has attached importance to. The conclusion I reached was that we were not going to be able to reach an agreement and therefore I had come as far as I was going to be able to go and it seemed inappropriate that I should continue.
"My preference would be for a negotiated outcome. I now believe the government should introduce the contract but it should do so on the basis of the best and final position I put to the BMA."
He said he was "deeply disappointed and frustrated". "I had thought that we had cracked it on Tuesday. We had moved the government's position a long way from where it was," he added.
He said the BMA had "not moved an inch" on the issue of plain time working at weekends and said their return to the November offer "suggested they were not serious about reaching a compromise. I cannot see that the BMA were ever minded since we left Acas to reach a negotiated settlement."
Sir David said people would see that "scaremongering" about working more hours was "nonsense", adding: "It actually provides greater safeguards than the current contract. I have heard slogans but not an argument that at any point in the contract we have taken safeguards away so that trusts can roster people for longer or longer consecutive days or nights, it's completely the opposite. In the cold light of the day look at it and make your own fair assessment of what it says."
On the BMA he said: "If you are so connected to your membership and you stand with it all the time then you don't allow yourself room to manoeuvre and I wonder if that has had a part to play here.
"They have achieved so much compared with where they were that they could have turned to the membership and said look at what we have been able to achieve. If you compare the government's original position to what is now available it can be seen that it is substantially different."
'Clear issues of morale'
Sir David Dalton called on NHS chief executives to find ways of improving morale among junior doctors, echoing his comments that problems had been brewing for a number of years.
He said: "There are clear issues of morale, people are very hot under the collar and concerned, bewildered and not understanding at the moment.
"Finding ways of improving morale and teamwork is hugely important and chief executive colleagues need to be meeting with their own doctors in training, talking with them and understanding how to find ways that are not to do with the contract [to improve morale].
"Those are the issues that are much more important and improvement can be made in every workplace across the country. I hope my colleagues will commit to do that, including myself, to build the teamwork that is necessary."
Sir David said he believed social media commentary about the contract dispute had been "unhelpful" to the negotiations.
"If you are always swayed by the torrent of comments that are made then you're probably not able to make a reasoned judgement about the steps you have to make to reach agreement.
"A proportion of the commentary has been distasteful and I wish people were more thoughtful before they committed themselves to being put on record," he said.
Dalton: BMA was 'not serious about reaching a compromise'
1

Currently reading

Dalton: BMA was 'not serious about reaching a compromise'

2

3

4

5