Devolution is inherently a place-based issue and isn't just about workforce, writes Michael Wood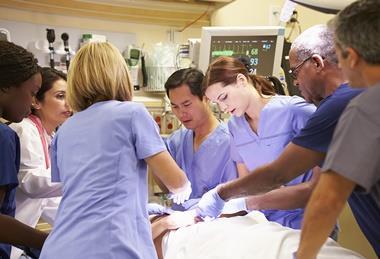 The typical NHS response to a system "crisis" is to tighten the grip of the centre, with a host of new targets, demands and metrics cascaded down through the various tiers. While it is perhaps understandable that there should be an element of scepticism at the news that NHS Improvement will recommend devolving some workforce activities to local systems, this should be the moment to breathe a sigh of relief and pick up the phone to your local partners.
Concerns about the workforce are top of the list for front-line NHS leaders – both in terms of the immediate delivery of services but also in enabling the strategic development of our integrated care systems and sustainability and transformation partnerships more generally.
The NHS Confederation hosted a recent roundtable to challenge the assumptions that have traditionally governed NHS workforce development and to understand what the future balance between the national and local level should look like.
For many leaders there is both an acceptance that a one-sized-fits-all approach to workforce development is no longer a viable solution for the NHS and a recognition that they themselves should be taking a more active role locally to shape the future.
Our view was that we needed to explore in greater detail the powers, freedoms and responsibilities that ICS and STP leaders were asking for and, critically, the local commitments and relationships necessary to deliver this change. The conclusions from this roundtable are covered in an NHS Confederation consultation: Defining the role of integrated care systems in workforce development: A consultation.
Devolution doesn't just happen
For any form of devolution to work, it must be wanted, supported and continuously evolved over time.
Devolution is in effect an incremental process requiring continuous evolution as ideas, courage and partnerships mature
On the former, the roundtable was clear that the ICS should be the default level at which accountability for health and care workforce decision-making is based. This accountability would ideally cover several key areas of workforce development, including strategy and planning; supply and retention; and system deployment.
Local leaders wanted, amongst other things, increased autonomy over the development of the local system architecture, responsibility for managing strategic external relationships and, critically, control of dedicated funding streams.
This is where the central support comes in, financial of course but also in terms of clarity and better coordination. Being clear and transparent about the roles, and funding, of the national workforce organisations was deemed a prerequisite to gaining the trust of local leaders and encouraging longer-term, more strategic local planning, as well as providing the necessary clarity on what an ICS could do. Couple this with the free-flowing sharing of good practice on the ground and our local leaders have a chance.
Devolution is in effect an incremental process requiring continuous evolution as ideas, courage and partnerships mature. The timing of this draft consultation is therefore important. Confidence in the sector's ability to identify, plan and deliver nationally the health and care workforce needed for the future is falling rapidly, just as local leaders are collaborating on skills in new ways and with a range of different partners. This is where the devolution of health workforce powers meets the wider devolution of skills policy.
Becoming an involved and influential employer
In an attempt to reinvigorate the economy, the government's local growth and devolution agenda is handing down responsibility for directing local education systems and priorities for skills development to bodies such as Mayoral Combined Authorities and Local Enterprise Partnerships.
In future, it is expected that the needs of high value local employers will be closely aligned with the focus of the area's schools and further and higher education providers. As the largest employer in any given locality, the NHS has most to gain by working with others locally to address its skills needs and, conversely, most to lose by not doing so.
The publication of this consultation is not the end of our work. As well as seeking the views of leaders within the sector, the focus now moves to this very issue of local influence. In particular, we will be seeking the thoughts of those local, external partners that are vital in successfully delivering this increased local autonomy.
We want their views on what their role should be in contributing to the future health and care workforce; their asks for our sector as ICSs continue their development; and their experiences from working with other sectors on what our local partnerships should look like.
Lastly, this isn't just about workforce
Devolution is inherently a place-based issue. Just as an ICS cannot realise its full potential without addressing local workforce challenges, the arms-length bodies cannot devolve workforce responsibility and maintain a concrete wall around other ICS priority areas. Rather than see this as the centre setting local systems up to fail, we may just have glimpsed the start of real system leadership.

Michael Wood is head of Health Economic Partnerships at the NHS Confederation.