Contract proposal would allow consultants to opt out of new contract
Idea would avoid the need for a ballot on the contract
NHS Employers says it is "unwise" to prejudge outcomes of negotiations
A new consultant contract for hospital doctors in England could be made optional for both existing consultants and junior doctors.
HSJ has learned NHS Employers and the British Medical Association are negotiating the final details of the contract, which if agreed would mean BMA members would not have a ballot to accept the contract. Instead they would opt in on an individual basis.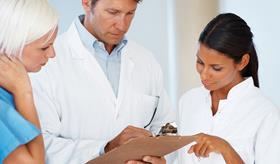 This would avoid the risk of another major dispute with the government so soon after last year's damaging junior doctor contract imposition. However, it would also limit the government's ability to move the consultant workforce to the new contract quickly.
NHS Employers said in a statement it would be "unwise for any party to prejudge the outcome of these ongoing and constructive discussions".
However, an email to BMA consultant members from Keith Brent, the union's consultant committee chair, said the opt-out was a potential point of agreement between the two sides.
The message, sent on 24 January, said: "Negotiations on the contract have been long and complex. We have listened to what you told us at last year's roadshows across the country and have represented your concerns and priorities in further negotiations. I believe that this has led to significant progress over the past few months.
"A key element in this progress – and subject to final agreement – is that consultants would be offered the choice of staying on the existing 2003 contract or moving to the new 2018 one.
"This means that existing consultants would be able to exercise individual choice on the contract under which they would work rather than participating in a ballot. We have been clear that any such choice would also have to be available to junior doctors as they move to become consultants."
Dr Brent said the proposed offer was still being finalised and there was "some way to go".
Previous suggestions of what the contract changes could look like included:
removal of a consultant's right to decline non-emergency work in the evenings, at night and weekends;
a lower starting salary of £70,000 but fewer increments meaning consultants would reach £93,000 years before the current rules;
bringing down the top of the consultant pay scale;
removal of clinical excellence awards including those currently held; and
extending plain time hours on evenings and to include Saturdays.
Both the BMA and NHS Employers declined to be interviewed.
NHS Employers' statement added: "NHS Employers and the BMA remain in formal negotiations on the options updating the consultant doctors' contract. Although agreement has not yet been reached, NHS Employers remains committed to continuing to work with the BMA to reach a mutually acceptable outcome to this process.
"It is unwise for any party to prejudge the outcome of these ongoing and constructive discussions."