NHS England cancellation estimates based on data from 225 NHS organisations
Estimates predict thousands of inpatient and day case operations will be cancelled today
NHS England says it has "tried and tested plans" to cope with disruption
NHS England has said it expects less than 1,150 hospital inpatient admissions to be cancelled today as a result of the junior doctors' strike.
Ahead of the 24 hour strike, which began at 8am, NHS England said it was predicting 1,425 elective admissions would be affected by the strike both before and after today, along with 2,535 day cases at 151 acute trusts.
It said it expected 1,148 elective inpatient admissions would be cancelled along with 2,154 day case operations during the first junior doctor strike for 40 years.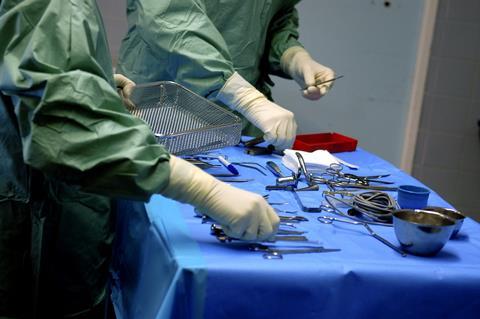 This is equivalent to 23 per cent of the average 14,500 patients admitted as either an inpatient or daycase, per working day on the consultant led referral to treatment time pathway.
NHS England said 225 out of 228 organisations submitted data on the expected impact of the strike, which is designed to affect only non-emergency services.
University College London Hospitals Foundation Trust was expecting less than 10 per cent of its usual activity to be affected. Yesterday afternoon the trust was predicting 7 per cent of outpatient appointments would need to be rescheduled and 32 day case and inpatient admissions were affected.
NHS waiting times expert Rob Findlay told HSJ the level of cancellations was "a drop in the ocean" for the RTT pathway backlog.
He said: "They can't blame a breach on the 18 week target on the junior doctors' strike, firstly because the breach probably happened in October and secondly the waiting list has been growing for the last few years and the rate of growth is enormous compared with the impact of the strike."
The dispute between the government and junior doctors centres on plans by the government to agree new terms and conditions for trainees that could see the end of banding supplements and lower weekend pay alongside a rise in basic pay and new limits on working hours.
NHS England said "everything possible is being done to ensure the provision of safe emergency care and to minimise the impact on patients", but it said it regretted that "thousands of planned procedures would have to be rearranged and that people would have to wait longer for treatment as a result".
Anne Rainsberry, the NHS England director overseeing preparations, said: "We have tried and tested plans to deal with a range of disruptions including industrial action. As ever, the safety and care of patients is our top priority and the NHS has robust plans in place to ensure those who need emergency treatment will continue to receive it.
"We have been working with hospitals and other NHS providers across the country to ensure we can continue to protect the safety of our patients and provide the urgent services they need. We will monitor the situation to ensure these plans are in place, and are ready to respond to any significant increases in pressure in any region over the course of this dispute."
Junior doctors plan to strike again for 48 hours starting at 8am on 26 January, affecting non-emergency services only.
On 10 February they plan a full withdrawal of labour including all emergency care from 8am-5pm.
UPDATED: This story was updated to reflect that day case operations are included in the average admitted patients per working day total.