Jim Mackey has said financially stretched trusts should not automatically spend money on new staff or better facilities on the basis of a Care Quality Commission recommendation or in an attempt to meet royal college standards.
The NHS Improvement chief executive told HSJ some recommended medical royal college staffing standards were "unmatchable" aspirations, and suggested services already rated good by the CQC do not necessarily need further investment, even if they could be improved.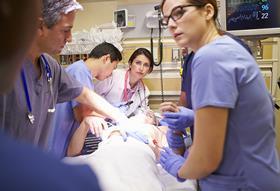 He said some trusts would be told that hiring more than one nurse to every eight patients could not be justified.
Mr Mackey said there had been "misinterpretations" of CQC recommendations by trusts, "where people have interpreted it as, 'you must go and employ a load of extra people'. We've talked to CQC colleagues, and that's not what they meant."
He added that where this led to trusts being in financial difficulty, NHS Improvement would be "brokering conversations between the CQC and the trust that gets everyone in a better condition".
Mr Mackey said in one example a trust rated as good by the CQC had, following a conversation with him and CQC chief executive David Behan, decided not to make some improvements recommended by inspectors.
"They costed what their view of the CQC [recommendations] was, and it was saying, you need X more of these, expand that building, this rota looked a bit light compared to what we would expect."
The trust, Mr Mackey and Mr Behan "ended up with a position that none of them were 'must do's', none were absolutely essential".
"The [trust's] board now is in a more empowered position to say, we've looked at all that, this is still a good service. We can invest £2m in it, or we can accept it's good, so let's not. And that's what happened," he said.
Mr Mackey said in future, CQC recommendations should be balanced against cost implications.
"Where I want to be is… when somebody is inspected, there's a set of requirements; I'll make sure they're costed properly. If some of them sit with commissioners, we'll make sure they're involved, and we'll have a discussion and support that board to take decisions in the round."
Mr Mackey said trusts had to conisder "how applicable" medical royal college standards were to them, adding "there isn't an organisation that matches every college standard. Some of them are unmatchable. They're aspirations."
He also said trusts that have gone beyond the ratio of one nurse to every eight patients should not have done so. "We'll be saying we can't afford that, that's not something that's justified, there's no evidence for it, it's not delivering better outcomes, we expect that to be reined back."
The 1:8 nurse to patient ratio was included in NICE guidance for acute inpatient wards as a reference for trusts to consider, because research evidence showed it was the point at which harm started to occur. It is not a mandated minimum level, but research shows nurse to patient ratios should be lower than 1:8 to avoid patient harm.
Exclusive: Mackey tells trusts to curb clinical staff growth
1

2

3

4

5

Currently reading

Don't automatically invest to meet CQC or Royal College standards, warns Mackey