Survey of 3,600 agency staff shows many already work in the NHS and extra shifts top up pay
More than half of agency staff said they will work fewer shifts or change career as a result of agency caps
Monitor says action is needed to tackle "spiralling wage bill" for temporary staff
New caps on agency staff working in the NHS will fail to attract people back to the service and could lead to many shifts being left unfilled, a survey of more than 3,600 agency workers has found.
The survey, including responses from 1,960 nurses, 675 doctors and 978 allied health professionals, found 45 per cent of the nurses and 39 per cent of locum doctors were NHS employees already working extra shifts to increase their take home pay.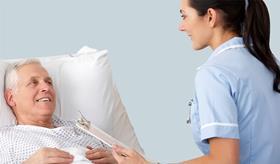 Of those who were not NHS employees, more than half said agency work offered flexibility that the NHS could not match and the price caps, which come into force today, would not encourage them to return to employment in the NHS.
Fifty-four per cent of agency nurses, 53 per cent of AHPs and 74 per cent of doctors said they would work fewer shifts, or change career, possibly even leaving the country, as a result of the price caps.
Only 13 per cent of nurses and 2 per cent of doctors said they might consider working more shifts to maintain their income.
The number of nurses that suggested they would shift from agency employment to more permanent hours in the NHS was less than 10 per cent.
Only 6 per of doctors said they would shift from agency to permanent work in the health service.
The survey included staff registered with Pulse, Maxxima and Asclepius, which are agencies owned by Independent Clinical Services, which sponsored the survey.
Andrew Taylor, from Aldwych Partners and former director of the NHS Cooperation and Competition Panel, carried out the survey for ICS and told HSJ the results suggested the number of shifts agency staff will work could decline by half to three-quarters.
He estimated the total number of shifts lost to the NHS as a result of the policy could be as high as 40 per cent for nurses and 80 per cent for doctor. He said: "So many of the staff say if their agency pay is cut they are going to do something else. Even if only half do what they said they will do it's still a very big number.
"The agency caps are a train crash in the making. It looks like scapegoating around agencies at the moment and I can't think why anyone thinks this capping of agency rates is a good idea. I'm not even sure Monitor thinks it's a good idea when I read their impact assessment."
Monitor and the NHS Trust Development Authority's impact assessment said price caps for agency staff posed "significant risks" for patient safety and performance, but the "balance of clinical risks" supported taking action.
Survey respondents raised fears for trusts in remote locations, with only 13 per cent of AHPs and 20 per cent of doctors saying they would be prepared to take a placement living away from home as travel and accommodation costs would not be covered.
Twenty-nine per cent of the agency nurses in the survey have full-time positions in the NHS, and a further 17 per cent had part-time ones. A third of the locum doctors were full-time NHS employees with 6 per cent had part-time roles.
Almost two-thirds of nurses who have a permanent job in the NHS said they worked agency shifts because it pays more than their NHS organisation's bank shift rate. Half of locum doctors said the same.
Tom Hadley, policy director at the Recruitment and Employment Confederation, which represents the agency sector, said: "This policy will drive skilled professionals out of the NHS and make the current staff shortages even worse.
"It's clear that Monitor and the health secretary don't really understand why locum doctors and nurses chose to work this way. The idea that by cutting what they earn they will clamour to return to the NHS as permanent employees is wrong."
A spokesman for Monitor and the TDA said: "The NHS simply cannot afford the rising cost of agency staffing, which has already passed £1.8bn this year alone.
"We make no apologies for taking all necessary steps to tackle the spiralling wage bill for temporary staff and for doing all we can to support the NHS to rise to meet the unprecedented financial challenge that it faces."