Leaked letter from Sir David Dalton reveals significant change in stance from NHS Employers and government
New offer includes limits on Saturday working and enhanced Saturday pay for some doctors
Negotiations were scheduled to continue today between NHS Employers and BMA
The government has offered major concessions to junior doctors, including over weekend pay, in a bid to end their ongoing contract dispute, HSJ can reveal.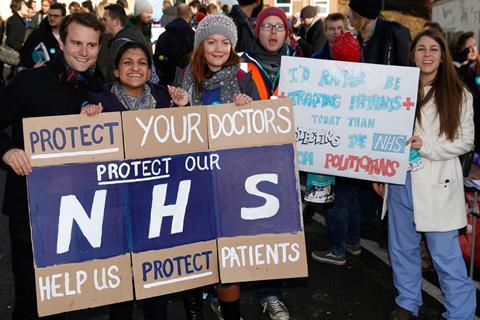 A letter from Sir David Dalton, the lead negotiator for government and NHS employers, leaked to HSJ, reveals the offer includes new limits on weekend working and enhanced pay rates for some doctors working Saturdays.
The confidential offer – made to the British Medical Association last week – represents a significant shift by ministers and NHS Employers. They have until now always insisted Saturday hours should be paid at standard rates – something the BMA has bitterly opposed.
The offer is a clear attempt to break the impasse which this month saw junior doctors take part in their first strike for more than 40 years.
The leaked letter is from Sir David, the hospital chief executive who the government brought in to lead its side in the talks after Christmas, to BMA junior doctors committee chair Johann Malawana.
It spells out a string of proposals to make weekend working for trainee medics more acceptable.
It also reveals details of the discussions on how to ensure changes do not result in doctors working excessive hours.
Negotiations between both sides are scheduled to continue today from 10am.
The letter, dated 16 January, includes proposals that:
Any trainee who works one in three Saturdays or more will be paid an enhanced rate for all the Saturdays they work. This could be equal to proposed unsocial hours rates for nights (50 per cent) or Sundays (33 per cent).
Junior doctors will not be expected to work consecutive Saturdays.
Unsocial hours rates would begin on Saturdays at 5pm rather than 7pm.
Unsocial hours rates for all junior doctors would start at 9pm Monday to Friday instead of the original proposal of 10pm.
Trainees will be able to request a rapid review of their schedules if they are concerned their training time is being affected by weekend rotas.
In the letter Sir David, chief executive of Salford Royal Foundation Trust, says: "I believe that this offer in relation to working on Saturdays addresses your concerns about excessive working on Saturdays, and offers particular benefits to those trainees who work most frequently on Saturdays."
He adds: "Employers are clear that payment of plain time for shifts starting on a Saturday after 7am is fundamental. We have clarified that this must be applied to a substantial element of Saturday, and for a substantial number of the trainee workforce.
"This will enable the NHS to be more responsive to the needs of patients and to support safe and reliable care across the seven day week.
"It will enable cost effective deployment of staff across seven days, consistent with investment in NHS services and growth in the NHS workforce including medical trainees."
The letter said agreement on the issue of plain time for shifts on Saturdays was conditional on reaching an overall contract deal.
Sir David also revealed the scope of discussions with the BMA held on 14 and 15 January, via Acas (the Advisory, Conciliation and Arbitration Service).
He said two substantive issues had been discussed. One was related to the new proposal of a guardian role in each trust to oversee working hours for junior doctors with trusts fined when rules were breached.
Sir David said: "In this latter area you have confirmed that the financial penalties would apply in relation to breaches of [European working time directive] and 72 hour limits, but do not wish to see any qualification of such breaches as 'consistent'."
He revealed the BMA had supported the idea of fines resting with local guardians and that the union wanted to discuss how this money was divided between the guardian and as pay for doctors.
Sir David said the current offer of higher basic pay meant more certainty for doctors and employers as well as better pension benefits than under existing terms and conditions.
NHS Employers chief executive Danny Mortimer, asked to comment in response to the leak, said: "We're hugely disappointed that someone has chosen to disclose this confidential letter during these sensitive negotiations. We continue to have detailed and constructive discussions with the BMA."
Dr Malawana said in a statement: "Talks are ongoing and the focus now is on making progress in those talks, which is why the BMA took the decision to suspend next week's industrial action. Differences remain on some key areas but we are committed to addressing these in talks."