Modelling by civil servants shows NHS nursing supply could fail to meet demand by 2025-26
Worst case scenario shows a shortage of between 26,000 and 42,000 nurses
Health minister convenes new committee to drive policy response
After Brexit the NHS could be hit by a shortage of more than 40,000 nurses by 2026, according to modelling by the Department of Health leaked to HSJ.
Such a fall in the number of nurses and midwives would leave the NHS "unsafe", the head of the Royal College of Nursing warned, and has prompted serious concern among ministers and officials at Richmond House as the UK heads into Brexit negotiations with the EU.
The modelling, carried out by DH civil servants, forecasts a worst case scenario for the UK where all EU and non-EU inflows of nurses and midwives stop after changes to immigration rules. The modelling shows a decline in nurses from 2019, when the UK is expected to exit the EU and could introduce immigration restrictions (see graph). If all EU and non-EU inflows stopped, this would create a shortage of nurses in the health and care sector of between 26,000 and 42,000 by 2025-26, compared to the forecast base case supply.
While this is considered unlikely to happen, any impact on workforce supply from Brexit and increased demand on services could place considerable pressure on the NHS and be a risk to patient safety. Research has frequently shown patient safety is linked to the number of nurses caring for patients.
The information, seen by HSJ, said: "The analysis indicates that there is a severe risk of undersupply if immigration rules change and international inflows stop."
It added that the modelling represents "central estimates of base case supply and unconstrained demand as well as planned demand scenarios".
It shows that if migration of nurses from the EU stopped, the estimated supply of qualified nurses and midwives would fall by 14,000-22,000 full-time equivalents by 2025-26.
Full-time equivalent nurse/midwife supply and demand estimates for health and care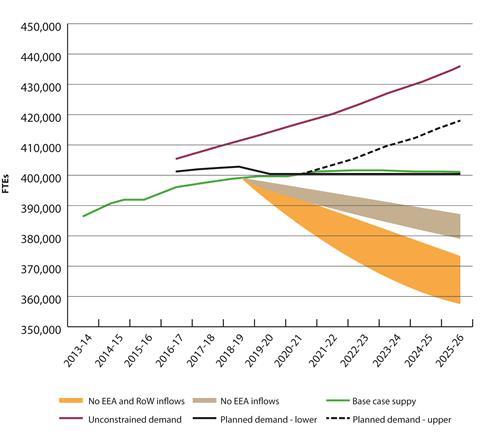 Even the base case supply of nursing staff to the health service over coming years will barely meet the lower estimated level of demand. If demand even marginally increases, the supply of nurses, regardless of the effects of the Brexit deal, will fail to keep pace.
The estimated "upper demand level" for nurses reaches a peak of 419,000 full-time equivalent nurses by 2025-26 but the base supply will only be marginally above 400,000. If rising patient demand is "unconstrained" then the gap could be even worse with a potential shortage of 36,000 full-time equivalent nurses, assuming the base case supply of nurses is achieved.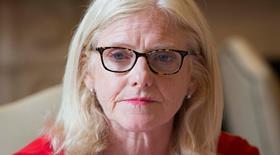 A source close to the work said: "Even the best case scenarios are pretty stark… if demand goes up again we are in a very challenged position.
"All of the approaches to mitigate this are sensible but even if the model on the Brexit position is realised then this could have serious consequences for the nursing workforce. If the downside scenario plays out, the gap could be 40,000-plus. London would be exposed to this issue to a far greater extent…
"But everyone is finally recognising we don't have enough [nurses]; it's a more honest narrative about the nursing workforce now."
The modelling, presented to ministers last month, is understood to be one reason why NHS England emphasised increasing the number of NHS nurses by 2020 in the Next Steps for the Five Year Forward View document last week.
HSJ has learned health minister Philip Dunne has convened a new committee at the DH to drive a policy response to workforce issues. All the national NHS arm's length bodies are represented on the committee.
It is expected the group will look at nursing supply, retention and training, as well as issues affecting other staff groups. Brexit will be discussed but decisions will be made at cabinet and secretary of state level as negotiations with the EU progress.
One DH source said workforce was the biggest problem for the NHS related to Brexit and ministers accepted that more needs to be done to maintain a sufficient staff supply.
Janet Davies, chief executive of the RCN, said the NHS would be unsafe if the number of registered nurses fell by the levels estimated by the modelling.
She said: "It would be unsafe. Decisions would have to be made about what would we be able to provide. You wouldn't want to keep running an unsafe service that was so short of nurses."
She said the modelling estimates were worrying but not a surprise, adding: "We warned of this years ago and we were told we were scaremongering. This is a large problem that is coming at us quickly and we need to move fast. What we are not seeing is any real action."
A DH spokeswoman said: "As you would expect, the department and others are focused on workforce planning to ensure the NHS has the staff it needs to continue to provide good care.
"The secretary of state has always made clear that EU nationals who work in the NHS make a valuable contribution and this will be taken into account during Brexit negotiations."
Health Education England plans to publish a workforce plan later this month. HEE chief executive Professor Ian Cumming said he "supported a system that allows us continued access to the widest possible pool of healthcare professionals to ensure we meet the needs of the NHS and patients".