Some trusts could have fewer clinical staff after regulators' intervention
Jim Mackey says trusts that exceed 1:8 nurse to patient ratio will be told "we can't afford that"
Trusts that fail to improve their finances may have to merge or be taken over, HSJ understands
Interventions taken by regulators in the coming weeks to regain control of NHS finances could result in some providers having fewer clinical staff, HSJ has been told.
Efforts to reduce the provider deficit are set to focus on 30-40 trusts where the pay bill either increased substantially last year, or which have planned for growth in 2016-17.
In an exclusive interview, Jim Mackey, chief executive of NHS Improvement, said trusts exceeding the ratio of one nurse to every eight patients could be told "we can't afford that".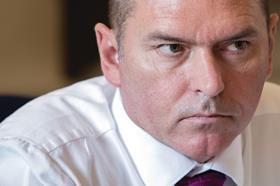 Mr Mackey said some of that pay bill growth might have been justified, but his team are in the process of exploring where growth that took place last year can be "corrected", and planned growth for 2016-17 can be "mitigated".
He said "it is possible" this will lead to fewer clinical staff on wards, adding: "I can think of a couple of providers that went beyond the safe staffing requirement.
"A lot of providers ended up using bank and agency [staff] to try and get close to the safe staffing recommendations, but I've met with some that went even beyond that 1:8 ratio from a nursing point of view."
Mr Mackey said NHS Improvement would scrutinise pay costs across the entire provider sector, not just acute trusts.
The NHS provider sector reported a deficit of £2.45bn in 2015-16, leaving the Department of Health with a huge financial hole to fill in its year-end accounts, which are due to be published this month.
The sector has planned for a deficit of £550m this year, but regulators expect this to reduce to £250m.
Mr Mackey said it was too early to say how much of the pay growth was unjustified, adding: "We'll have a better feel at the end of this process. By the end of July we want to be really clear what that means for each provider's plan, so how much of it can be corrected and what's the timescale."
A key principle for NHS Improvement was to bring "more fairness and equity" between providers, Mr Mackey said. "If you're an organisation that has exercised real restraint, and next door an organisation is performing the same or better and has exercised less restraint, that's potentially quite toxic".
The process, he said, is about "just restoring good discipline, good governance, and good processes that have continued to exist in our best providers".
He said substantive staff as well as agency workers accounted for the pay growth, but he would be "surprised if there was a provider that actually has to have a huge lay off process". He suggested numbers could be reduced by voluntary redundancies or leaving roles vacant.
There was expected to be an announcement later this week, dubbed a financial "reset", which will outline the consequences for providers that fail to improve their financial situation.
HSJ understands the consequences would involve an assessment of board capability and potential changes to senior personnel, with consideration given as to whether the organisation should be merged or taken over by another trust.
Asked how long trusts would be given to convince regulators against major intervention, Mr Mackey said:
"You'll not be locked in a situation for months on end with lots of advisers' reports, because that's rarely worked.
"What I'd like in this process is the board will have a month to come up with a plan and convince us… This is about short, sharp, get the message, show you can manage it yourselves, ask us for some support to deliver it and get back on your feet as quickly as you can."
Mr Mackey denied that pay cost growth was a legitimate reaction to rising demand. "When everyone says activity went up 2 per cent, therefore cost needs to go up, no it bloody doesn't."
He added that some providers were "on the edge of going out of business" and were close to not having enough cash to pay staff.
In recent years the system has moved from it being rare for a trust to need cash bailouts from the Department of Health, to it having "almost become the norm".
However, he added: "There isn't the cash there… there is a limit on how much cash we can all access in aggregate [although] we're not sweating yet, we should worry about it."
Mackey: Providers not solely to blame for NHS financial crisis
Mr Mackey also emphasised the efforts providers were already making to control their costs, and said the rest of the health system needed to contribute.
"The financial problems facing the NHS cannot be blamed on just providers," he said. "The provider sector is just part of a much bigger system and the picture on NHS finances is more complicated.
"The vast majority of providers are working extremely hard to be part of the solution and in the last year we've made a great deal of progress towards getting the provider side back in balance.
"From a budget of £110bn for the NHS, providers make up roughly two thirds of that. There is a whole third of that NHS budget where until now there has not been as much focus in terms of financial discipline.
"Providers are absolutely going the extra mile. They are doing everything they can to tackle the many financial challenges they face, and they're doing it while continuing to provide consistently safe and high quality services to an ever increasing number of patients. They should be commended for their efforts."
Exclusive: Mackey tells trusts to curb clinical staff growth
1

Currently reading

Exclusive: Mackey tells trusts to curb clinical staff growth

2

3

4

5