Sir Robert Francis says senior managers should be regulated as part of a reformed system
The Mid Staffordshire public inquiry chair also questions the fit and proper person test
Calls for professional regulators to change their focus to do more for patient safety
Senior NHS managers should be regulated in the same way as nurses and doctors to ensure public trust and confidence, the chair of the Mid Staffordshire public inquiry has said.
Sir Robert Francis QC also said it is time for a "radical rethink" about how regulators like the General Medical Council and Nursing and Midwifery Council operate saying: "At the moment [professional regulation] processes do not meet public expectations and only affect a very small minority of registrants, at huge financial and human cost. A more risk based, supportive approach, might be more effective than punitive action."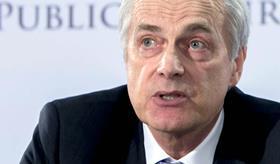 In an article on hsj.co.uk today, he says senior managers should be regulated on the same basis as clinicians as part of a reformed regulatory system.
The leading barrister and CQC board member also questioned the effectiveness of the fit and proper person test, and has doubts about whether it can "achieve a level playing field between all healthcare leaders".
In the Mid Staffordshire public inquiry report, Sir Robert recommended a fit and proper person test to ensure board directors could be removed by the trust, or the regulator. So far the CQC has not exercised its ultimate sanction against any NHS director.
Sir Robert first recommended regulation of managers in his first independent report into Mid Staffordshire in February 2010.
In his article, Sir Robert says it was clear from CQC inspections that "safety remains a problem in the NHS."
He writes that the NHS complaints system needs to be "radically improved" to create a system where "complainants are genuinely involved in all stages." Patients should also be able to achieve redress without litigation, he said.
Under his suggestions for reforming regulators Sir Robert argues the focus should be on "systemic deficiencies", which "should always be looked for and taken into account" with regulators coordinating actions where different staff are involved in the same event.
Other ideas include mediation to resolve complaints with grievances about one clinician sparking wider investigations of others who may have been involved.
He says allegations linked to a worker having raising safety or probity concerns should be taken into account, adding that staff who "raise honestly held concerns with regulators should be supported and recognized and the behaviour of the employer should be monitored."
The focus should be on learning not blame for errors, he adds.
"There is an increasing awareness that protecting patients from harm is not a simple matter of identifying medical error and finding a professional to blame for it. The question arises as to how professional regulators can best contribute to patient safety and what role fitness to practice proceedings have in this context."
The Care Quality Commission told HSJ it was still gathering evidence for its review into how well the fit and proper person test was working so far and that it was likely the board would be updated before April.
Asked whether it agreed with Sir Robert that senior managers should be regulated like clinicians, a spokesman for the Department of Health declined to answer but said the government believed the fit and proper person test was "an improvement on the position previously."
Exclusive: Robert Francis calls for regulation of senior managers
1

Currently reading

Exclusive: Robert Francis calls for regulation of senior managers

2