Jeremy Hunt will today give doctors an ultimatum over seven day working as part of a major speech setting his intended direction for the service for the next 25 years.
Jeremy Hunt to deliver major speech on NHS reform at 9am today
BMA told to "get real" over seven day working
Government prepared to impose a new contract if negotiations fail
Secretary of state sets September deadline for contract talks
The speech at the King's Fund, which is due to begin at 9am today, will include a direct challenge to the British Medical Association over seven day services.
Mr Hunt will say he will not allow the doctors' union to be a "road block" to reform, and will impose a September deadline on negotiations.
If an agreement is not reached, the government will impose a contract enforcing seven day working for new consultants. Ministers cannot force existing consultants to adopt seven day working, but they will aim for the majority of hospital doctors to be on seven day contracts by 2020, via the new contract or voluntarily.
Mr Hunt will argue that the BMA will be putting lives at risk if it refuses to agree to seven day working – and that the union is out of touch with its members.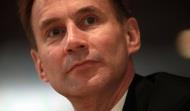 He is expected to say: "Around 6,000 people lose their lives every year because we do not have a proper seven day service in hospitals. No one could possibly say that this was a system built around the needs of patients - and yet when I pointed this out to the BMA they told me to 'get real.' I simply say to the doctors union that I can give them 6,000 reasons why they, not I, need to 'get real'.
"They are not remotely in touch with what their members actually believe. I have yet to meet a consultant who would be happy for their own family to be admitted at weekends or would not prefer to get test results back more quickly for their own patients. Timely consultant review when a patient is first admitted, access to key diagnostics, consultant directed interventions, ongoing consultant review in high dependency areas, and proper assessment of mental health needs: I will not allow the BMA to be a road block to reforms that will save lives.
"There will now be six weeks to work with BMA union negotiators before a September decision point. But be in no doubt: if we can't negotiate, we are ready to impose a new contract."
Mr Hunt will highlight NHS providers such as Salford Royal Foundation Trust and Northumbria Trust, which have brought in seven day working.
The government's aim is remove the ability for consultants to opt out from weekend and evening working from consultant contracts by April 2017.
Mr Hunt also wants to reform clinical excellence awards, and the terms offered to consultants working the most demanding unsocial hours, to ensure those working in specialisms such as emergency medicine or obstetrics are appropriately rewarded.
Consultants were granted an opt-out from non emergency work outside of the hours of 7am to 7pm, Monday to Friday, in the contract brought in by the former Labour government in 2003. Consultants who do work outside those hours are able to negotiate higher rates for those shifts.
The Doctors and Dentists Pay Review Body noted that the opt-out is a "highly unusual contractual clause", which does not exist for other NHS staff or other senior public sector workers.
Today's speech is expected to be extremely wide ranging, touching on regulation, leadership, and service improvement and safety as well as seven day working.
Mr Hunt will also seek to position the Conservatives as the "true party of the NHS". He is expected to say Conservatives "are passionate about what the NHS stands for: the belief that the highest ideal for any civilised society is to offer its citizens access to high quality healthcare irrespective of means; the instinct that we should always strive to ensure the horror of disease is never compounded by financial worries on top; and the confidence that comes from superb NHS care experienced by our own families."