Acas talks extended to Wednesday 18 May after "real progress" this week
Sir Brendan Barber, chair of Acas, says negotiations have been positive and constructive
Both sides have agreed to suspend contract imposition and industrial action
Talks to resolve the junior doctors contract dispute have been extended until Wednesday next week.
Both the British Medical Association and NHS Employers have been in intensive negotiations this week, with talks going into the night on several occasions.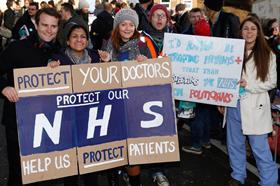 The negotiations were due to end today after an initial agreement to pause the contract imposition and further industrial action for five days.
However, Sir Brendan Barber, chair of the Advisory, Conciliation and Arbitration Service, said both sides had agreed to extend the talks until 18 May.
Sir Brendan said in a statement: "Both parties have committed themselves over the whole of this week to highly intensive negotiations in an effort to resolve this long running dispute. The talks have been conducted in a constructive and positive atmosphere. In my judgement some real progress has been made to address outstanding issues."
He added: "I reached the view, however, in the last 24 hours that a limited amount of additional time would be needed to give the process a chance of reaching a successful conclusion. I proposed to the secretary of state and to the BMA that the talks should be continued up until next Wednesday and, to allow this to happen, each side should renew the commitments they made for this process to start.
"These were that the government would suspend any action towards the implementation of the proposed new contract, and that the BMA would suspend any decision on further industrial action. I am grateful that both parties have agreed to this proposal.
"This is a strictly time limited extension and represents a final opportunity to find an agreement as the basis for the resolution of this difficult dispute. To give this the best possible chance of succeeding I have urged both parties to respect the confidentiality of the negotiations and to make no public comments on the talks and the issues under review and no hostile or negative comments about the other parties involved. I am grateful again that both parties have given that commitment."
Neither the BMA nor the government is expected to make a statement.