Monitor and TDA reveal hourly rates for all agency staff
Regulators agree to exclude bank staff from new caps on pay
Trusts express fears over safety in consultation response
Monitor and the NHS Trust Development Authority have published details this afternoon of the hourly rates that NHS trusts will be allowed to pay agency staff under caps to be introduced from Monday.
In a key concession to the provider sector, the regulators have decided to exclude bank staff from the hourly rates cap although this could be brought in at a later date if the cost of bank shifts rises significantly.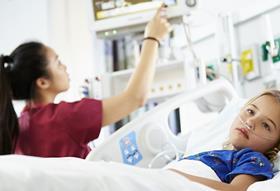 Detailed tables setting out the hourly rates for all staff groups have been published this afternoon. The rates will progressively fall from next week to no more than 55 per cent above permanent staff pay by April 2016.
Among other details, the rates published today show:
Band 5 staff will have pay capped at £28.80 per hour during the day from 23 November falling to £22.32 per hour by April 2016.
Band 6 staff will have pay capped at £35.65 per hour during the day from 23 November falling to £27.63 per hour by April 2016.
A medical consultant will see their hourly rate capped at £97.22 from 23 November falling to £75.34 by April 2016.
Trusts will be expected to secure lower rates where possible but the hourly rates are based on 2015-16 pay scales.
The agency caps apply to all NHS trusts and foundation trusts and cover all staff groups on both Agenda for Change and medical pay frameworks in both clinical and non-clinical roles.
The price caps do not apply to staff employed by ambulance trusts.
In its consultation response published on its website Monitor said many trusts had raised concerns around patient safety and the potential difficulty in safely staffing services.
In the document Monitor said: "We recognise these risks. However, the financial impact of doing nothing, and the increased reliance on agency staff, could present a similar or even greater risk to patient safety and access. The initial price caps would be around the median of rates currently paid and this is intended to allow time for the sector to adjust to the new rules. Trusts have asked for price caps to help them get a grip on agency expenditure and it is trusts' responsibility to manage their workforce safely. Trusts have primary responsibility for patient safety locally and the 'break glass' clauses are intended to allow trusts to override the price caps if there are exceptional patient safety grounds."
Monitor said it would also expect new weekly reports from trusts to oversee the impact of the price caps on patient safety, service performance, and agency, bank and substantive workforce numbers.
In addition to hourly rates for temporary staff Monitor and the Trust Development Authority have also set ceilings on the amount individual trusts may spend on nursing agency staff as a percentage of nursing turnover. This is intended to eventually bring all providers' agency spending to within 3 per cent of their overall nursing costs.
New frameworks for approved agencies have also been established and trusts are barred from using off framework suppliers unless they meet specific exceptions and seek regulatory approval.
Saffron Cordery, director of policy and strategy at NHS Providers, said: "The implementation of hourly price caps for all agency staff and a cap on management consultancy spend has the potential to be a key part of returning the NHS to financial balance which is critical given the provider sector deficit of £1.6 billion at the mid-point of the year.
"The success of the price caps will depend on all providers adhering to them so it is positive that Monitor and the TDA have listened to and responded to consultation feedback from providers. The full benefit of these measures will take time to realise and the focus now and in the long term must remain on ensuring that the NHS attracts the right number of people with the right mix of skills and experience to meet the local needs of their patients."