Another new role that combines nursing and therapy skills could be explored by Health Education England, once nursing associates are fully established, its chief executive has said.
The first 2,000 nursing associates will begin training at 35 pilot sites across the country this year. They will be trained on a two year programme and are intended to "bridge" the gap between healthcare assistants and nurses.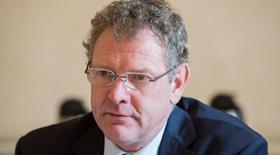 HEE chief executive Ian Cumming has now said once the controversial new career path has become "business as usual", the workforce planning body could then look at introducing therapy associates along similar lines.
Employers had wanted a new "nurse therapist" post for a while, he said, but it was originally envisaged as being trained to degree level.
Referring to national shifts towards more integrated services, he said associate roles were well placed for bringing together health and social care work.
"Coming back to that integration point, these roles are absolutely perfect for bridging the health and care interface. Particularly for people working in these roles out in the community," he told HEE's board meeting last month.
"As a board, we have talked previously about a demand that's come from some parts of the service for this nurse therapist role – an individual who combines some of the skills of a therapist with some of the skills of a nurse.
"Now that could exist at the registered professional degree level, but it could also exist at [associate] level as well," he said.
He added: "I actually think the next stage we'll be going [to] once it is business as usual for nursing associates, may be either therapy associates, or maybe taking it to be a more generic care/health therapy type role."
At the same board meeting, the HEE chief executive said the quality and number of people applying to take part in the nursing associate pilots so far had been "fantastic".