Immigration and skills charge could cost NHS millions of pounds from April
NHS England chief nurse Jane Cummings says EU staff must be supported
Government has overturned protections for EU staff ahead of Brexit talks
NHS England's chief nurse has called on the NHS to support European nursing staff as the country prepares for Brexit and the NHS faces a new immigration charge from next month.
Jane Cummings told the chief nursing summit in Birmingham today that European nurses must be made to feel welcome.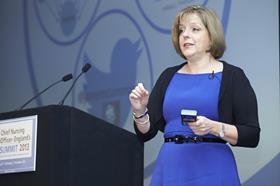 Her comments come after the Royal College of Nursing and the British Medical Association called on the home secretary Amber Rudd to exempt health and social care from the new immigration skills charge, which is due to come into effect in April.
The unions argue the charge of £1,000 per year for a visa will reduce funding for the NHS by more than £5m annually. They said: "It cannot be appropriate to divert funding away from the budget for front-line health services and the training of health professionals in this way."
Professor Cummings said: "For as long as there has been a National Health Service, there have been nurses from other countries and we have rightly celebrated the contribution of the 40,000 nurses who came from the Commonwealth to answer Aneurin Bevan's call.
"Today, around 4 per cent of nurses and midwives in the NHS are from European Union countries.
"Colleagues from the EU face an uncertain future in coming months. They will need our support. They help represent the communities we care for and we will continue to make them feel welcome."
Her speech follows the government's success yesterday in overturning House of Lords amendments on its Article 50 legislation, which would have provided safeguards for EU nationals in the UK. Theresa May has been accused of using EU nationals living in the UK as "bargaining chips" in the forthcoming Brexit negotiations.
The RCN and BMA letter said: "Given the ongoing pressures on both NHS and social care finances, the sustainability of services and the recruitment and retention of staff, we are asking you to exempt the NHS and the wider health and social care system from the [immigration skills charge].
"Imposing an upfront charge of £1,000 per year of visa would mean that £3.5m would be taken out of the NHS budget if it was applied to the 3,602 doctors who were granted tier two (general) visas from August 2014 to August 2015. Health Education England, the sponsor for all doctors in training in England, would be subject to charges of £1,627,000 for 2015-16, for the 1,627 full years of sponsorship for their trainees. If the charge had been applied to registered nurses then our already fragile health and social care system would have lost £655,000 in 2014-15, rising to £2.1m in 2015-16."
Professor Cummings also said nursing had to take a leading role in helping to transform the NHS.
She said: "Demand is rising and budgets continue to be tight, every penny and resource has to count.
"When it comes to commissioning and providing services, sustainability and transformation plans are the best way for us to demonstrate real leadership and focus on doing the right things that deliver safety and the triple aim of good care, improved health, and lower cost."