The NHS should allow local discretion on nurse staffing levels but trusts will be expected to report against outcome measures to support patient care, according to an NHS Improvement director.
Ruth May, executive nurse director at NHSI, also told HSJ she did not believe the health service had over-recruited nurses following the Francis inquiry. She accepted the UK nursing shortage was real and required an increase in nurse training.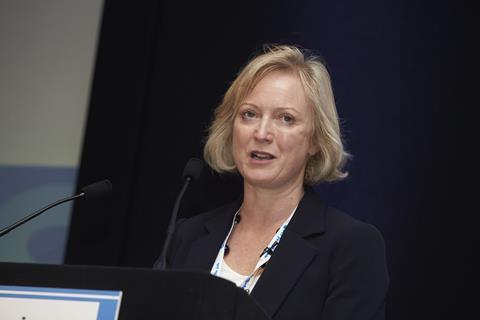 Ms May confirmed NHSI planned to implement Lord Carter's care hours per patient day metric and that it would have an aggregate result including a mix of registered nurses and healthcare assistants.
However, she said she expected this would be split between the two workforce groups and be publicly reported. The metric will replace the planned versus actual nurse staffing levels data reported monthly on the NHS Choices website.
The former chief nurse for the Midlands and East region also said new specialty specific safe staffing guidance would be produced in the summer and autumn. An initial refresh of the 2013 National Quality Board guidance on nurse staffing is due out next month.
This will replace the work by the National Institute for Health and Care Excellence that was suspended last year.
Ms May said: "What we have got at the moment is an NHS that has waited to be guided. We have very much a guide and comply approach, and I am wanting to move much more to a measure and improve approach.
"The guidance will have less expectations, maybe three or four expectations. It will be very much more about allowing the local director of nursing to make their decision. I want to make sure though that we have the measurement system in place and then we can measure that improvement.
"We know there is a lot of evidence out there about what safe care is and I want [chief nurses] to use their professional judgement in equal measure. We want to make sure that whatever the inputs are, they are measured alongside the outcomes for patients and staff."
She said NHSI would be developing a small number of nurse sensitive indicators reported at national level in quarter one of 2016-17, which would be used as a safeguard by both NHSI and the Care Quality Commission.
These indicators would include pressure ulcers, falls with harm, the care hours metric and others.
She described Lord Carter's care hours metric as "really important" at an operational level for matrons and ward sisters.
"It will have an aggregate workforce number in terms of hours but [chief nursing officer] Jane Cummings and my colleagues have been clear that it will have a registered nurse and unregistered workforce element too, it will be split."
She accepted that there was a risk trusts could recruit more HCAs at the expense of nurses to easier reach the mean number of hours but added: "It is not the be all and end all. I accept that is a risk. The important bit then is looking at the outcomes. This is not the only metric we will use."
Asked if the NHS over-recruited nurses after the Francis report she disagreed and cited the review of 14 high mortality trusts by Sir Bruce Keogh in 2013, which also identified staffing problems.
She said: "I do accept there is a shortage of nurses at the moment but I also accept we could be a lot more efficient about how we use our nurses. Yes we do need to train more, but actually there is a time lag between when we get those nurses and we need to look after the experienced staff we have got."
Ms May said she supported the proposal for the new nursing associate role being developed by Health Education England. "I believe it is a role that would add value to patients and other members of staff. I am waiting to see what the consultation conclusions are.
"I recognise the risks and opportunities to the role, it is something NHSI will have to have a real proactive role about how we implement that."