Leaked NICE document suggests current NHS practices for estimating demand are inadequate
Guidance says trusts should overstaff departments against historical trends
Overcrowding in UK emergency departments is "common" and linked to poor outcomes
NHS accident and emergency departments in England may be understaffed as much as half the time and hospitals need to build a greater margin of safety into their nurse staffing plans, according to safe staffing guidance leaked to HSJ.
The National Institute for Health and Care Excellence document, reproduced by HSJ today, suggested A&E departments needed to build a margin of safety into their nurse staffing plans in order to provide safer care and tackle "common" overcrowding. NICE accepted this would leave departments overstaffed at times.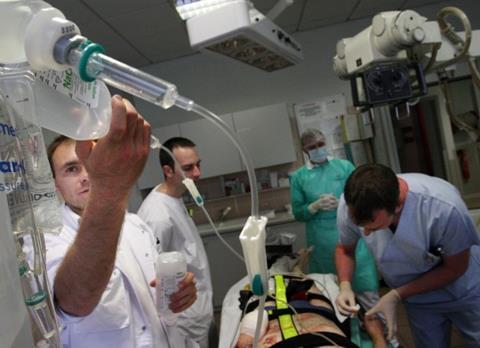 An appendix to the guideline, produced by NICE's safe staffing committee, said the current NHS practice of planning A&E staff establishments based on historical attendance figures meant "staffing levels may not meet demand approximately almost half of the time using the historical average".
It said trusts should plan expected attendance by increasing the historical data by one standard deviation measure and that analysis undertaken following the January 2015 publication of draft guidelines had shown this would reduce periods of excess demand to 15 per cent of the time.
Experts on the committee accepted this would lead to some departments being overstaffed at certain times. However, the document said the approach "would ensure that there would be sufficient staff to deal with higher than expected demand on the majority of occasions when this occurs".
The guideline said overcrowding in A&E departments was now common and this was "linked to poor outcomes such as increased waiting times and missed care".
As well as recommending minimum nurse ratios, the document also made a series of recommendations for NHS trusts to ensure A&E departments were properly resourced, managed and prepared to meet surges in demand.
The number of A&E attendances rose by 35 per cent from 2003-04 to 2014-15 and the guideline said it was important departments had the ability to be "responsive" to sudden surges in demand. It recommended local escalation plans be drawn up and approved by trust chief nurses.
The committee accepted this would have "additional costs" and the recommendations "may be challenging to implement in some organisations".
It said increasing nursing establishments would have a limited financial impact on larger departments but "costs may be substantially increased in smaller units".
The guideline set out the minimum functions a "type 1" A&E should deliver including: triage; minors; majors; resuscitation; and paediatric A&E services; plus major trauma where appropriate.
Trust boards should review their A&E nurse staffing levels at least once every six months, it added. These reviews should cover data on demand variation, nursing "red flag" incidents and other indicators of patient experience and care.
The safe staffing committee said while there may be a small administrative burden with monitoring red flag incidents it "felt it was necessary to prevent safety incidents in the future and could potentially be cost saving in the long run. Overall, it was agreed that six monthly monitoring would be the minimum required but more regular monitoring may be carried out."
Exclusive: NICE experts called for minimum staff ratios in leaked guidance
1

2

Currently reading

NICE leak: A&Es could be understaffed 'half of the time'

3

4

5

6