Forecast demand by trusts for adult nurses is not aligned to the Five Year Forward View
Unless demand forecasts reduce the nursing shortage will continue beyond 2020
HEE's pledge to meet future demand for nurses depends on activity falling in line with forward view
Trusts had forecast an additional 8,000 full-time equivalent nurses in 2015-16
The shortage of nurses across England will continue beyond the turn of the next decade if provider trusts fail to reduce demand for services, it has emerged.
HSJ has learned that Health Education England's commitment to close the gap between the demand and supply of adult nurses is based on providers reducing demand, as outlined in the Five Year Forward View.
HEE has confirmed that it will not be able to supply the health system with enough nurses if trusts cannot cut activity.
Without that reduction in demand, HEE has said trusts will continue to struggle to fill vacancies every year to 2020 and beyond.
However, trusts are planning for activity growth above what is envisaged in the forward view – meaning there is a gap between the number of nurses set to be supplied by HEE and the amount trusts believe they need.
The education and training body said growth in demand for nurses following the 2013 Francis report led to 24,000 full time equivalent nursing posts being created between 2012 and 2015, an 8.1 per cent increase – much higher than trusts had been forecasting.
In 2015-16, trusts predicted a further growth of 8,000 FTE nursing posts.
Details of a potential gap between supply and demand, identified in a HEE report, emerged last month in a board paper from The Rotherham Foundation Trust.
The HEE report said: "Such expansion [in demand for nurses] appeared to be inconsistent with the assumptions in both the [2015] spending review and the Five Year Forward View."
The report included a graph, reproduced below, which shows the potential gap between trusts' forecast demand for nurses and the potential supply from HEE.
Forecast demand and supply for adult acute nurses 2011-2020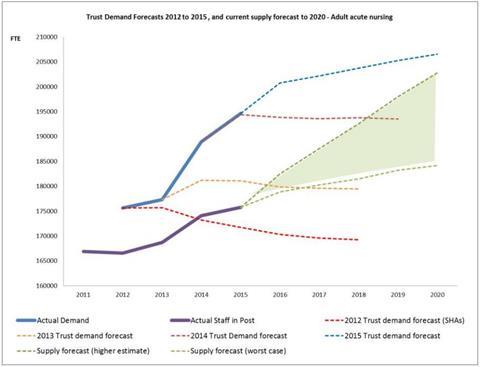 Rotherham workforce director Cheryl Clements said in a report to the trust board that the HEE graph showed "the challenging position regarding the recruitment and retention of qualified adult acute nurses in England".
She added there was already a gap between nurses in post and the numbers required prior to 2013, but this had since been aggravated by the need to ensure safe staffing levels following the Francis report.
Ms Clements said even HEE's best case scenario for nursing supply is below the level trusts believe they will need, and it assumes trusts increased their nursing numbers in line with their plans last year, which was "unfeasible due to the spending review".
She said: "Therefore the position is set to get increasingly difficult and means that Rotherham will be competing with the other trusts for a decreasing supply of nurses, including a potential reduction in new qualifiers."
HEE told HSJ the situation described by Ms Clements reflected the tension between the Five Year Forward View, the NHS's funding settlement in last year's spending review, and the need for more efforts in retention and efficient use of the existing workforce.
HEE said it remains confident it will close the supply and demand gap, but only if trusts made changes in line with those outlined in the Five Year Forward View.
Rob Smith, director of strategy and planning at HEE, said: "HEE set out its position clearly in its latest workforce plan, outlining proposed commissions for 2016-17. This has not changed.
"We again increased the overall volume of education and training with nearly 40,000 new opportunities for nurses, scientists and therapists.
"Our forecasts of future supply show that we are training more people to enter the system than those leaving in every profession, with an additional 80,000 staff across a range of professional areas potentially available to be employed by the NHS by 2020.
"In nursing and midwifery alone, we are forecasting an additional 47,000 in available supply."