Trusts need support to recruit and retain staff, says NHS Improvement nursing director
Nursing directors say they plan more overseas recruitment this year
Some trusts may have harder to achieve staffing plans compared with others
One of England's most senior nurses has said the pressures facing the health service, including nurse shortages, are the worst she has ever seen.
Ruth May, executive director of nursing at NHS Improvement, told HSJ "there is more we can and should do to help" NHS staff and she emphasised the need for trusts to recruit and retain more staff.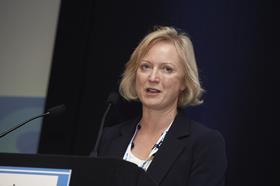 Trust nursing directors also said they are struggling to recruit nurses and looking to recruit staff from India and other non-EU countries.
The Royal College of Nursing has estimated the UK could be short of 20,000-30,000 nurses despite record levels of nurse employment in acute hospitals since the 2013 Francis inquiry was published.
Responding to HSJ's investigation into nurse staffing published today, Ms May said: "We all know the NHS is dealing with intense pressure at the moment. It's the toughest I have ever seen it.
"I've visited numerous hospitals since the new year and I've seen staff of all disciplines giving everything they've got to provide good care, but there is more we can and should do to help them."
She added: "We also need to do more to support trusts to recruit and retain more staff. The staffing resources that we are developing will help the NHS to ensure that it continues to provide safe and sustainable care.
"But we can't stop there. We also need to have a proper debate within the nursing profession about the new roles and how we really see the future multidisciplinary workforce developing. I think that debate is absolutely vital to relieving the pressure that nurses are under."
RCN chief executive Janet Davies said: "This is yet more evidence that there are too few nurses caring for patients, putting people at serious risk. Safe staffing levels aren't an optional extra – having the right number of nurses is essential to ensure that patients can recover properly.
"While healthcare assistants play a crucial role in the team, research shows that support roles cannot replace registered nurses if patients are to receive safe care."
David Melia, director of nursing at Mid Yorkshire Hospitals Trust, which had one of the lowest levels of performance for nurse staffing in October 2016, told HSJ the trust had reduced its inpatient ward nurse vacancies from 123 in January 2016 to 37 posts a year on.
He said: "Whilst this has been a significant improvement, the pressure on the service as a whole remains difficult. Nurse recruitment, and recruitment of staff generally, is tough; there are more vacancies across the region than there are registered staff to fill them.
"We know we have more to do but the offer we have is proving an attractive one and we are in a much better position now than we have been for many years."
University Hospital of Southampton Foundation Trust had a consistently lower performance than other trusts across the 21 months examined by HSJ.
Gail Byrne, director of nursing at the trust, said the trust plans for a higher level of nurses than other trusts that can mean its fill rate appears to be lower.
She added: "As is the case throughout the NHS, we do not employ as many nurses as we would like, but we now employ 210 more registered nurses than we did two years ago and are working hard to improve our recruitment and retention through a variety of projects."
Sue Jones, director of nursing and quality at North Bristol Trust, said trusts should constantly recruit to remain on top of their staff turnover. She said her trust had recruited nurses from Europe but was planning to seek nurses from further afield, including India and the Philippines, over the next year.
Health secretary Jeremy Hunt told HSJ last year he expected trusts to recruit more substantive nurses.
In response to HSJ's findings, a Department of Health spokeswoman said: "We expect all parts of the NHS to make sure they have the right staff, in the right place, at the right time to provide safe care."
She said there were more than 11,200 extra nurses since May 2010, adding: "With 51,000 nurses in training we will continue to make sure we have the staff available to give patients the high quality care they need 24 hours a day."
Revealed: The hospitals with the worst nurse staffing
1

2

3

Currently reading

Pressure on NHS 'toughest I have ever seen', says NHSI director