NHS organisations should be forced to publish data on the gender balance of their boards and senior management teams, a new report backed by NHS Improvement has said.
The report by Professor Ruth Sealy from the Exeter University's business school said all trusts, clinical commissioning groups, arm's length bodies and royal colleges should have no option but to report the data as well as age, tenure and the lengths of term.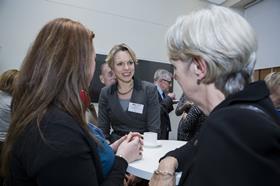 She also suggested NHS Improvement and NHS Employers should receive annual reports to their boards on aggregate progress towards gender balanced boards in trusts and CCGs.
At an HSJ Women Leaders event in 2015, NHS Improvement chair Ed Smith committed the regulator to working towards a 50/50 gender balance on boards by 2020.
Professor Sealy recommended a target of 50 per cent of all new appointments made through executive head-hunters and NHS in-house searches should be female for the next three years.
She also called for gender specific learning to be included in NHS training programmes, which would include unconscious bias, management of flexible working and female coaching, mentoring and sponsorship.
Her report, the first in-depth look at gender balance on NHS boards, found the situation was improving but there was still a lack of women in key positions.
The report reveals that of 245 NHS trusts and arm's length bodies, 43 per cent of board members are women. In other key roles at these organisations, women are underrepresented with just 26 per cent of finance directors and 25 per cent of medical directors being women.
Most chief nurses, chief operating officers and human resources directors are women, accounting for 85 per cent, 53 per cent and 63 per cent respectively.
Across 452 organisations, representation of women on boards varied from 8 per cent to 80 per cent, with an average of 41 per cent, the report said.
Professor Sealy, who has been the lead researcher of the annual Female FTSE board report since 2007, said: "There are lots of women working in the NHS – in fact, they make up 77 per cent of the workforce within the health service. Women have been in the NHS long enough to occupy the top roles, and I am encouraged by the progress in this area. It is certainly not a problem of supply.
"But the fact that women are still underrepresented in key decision making jobs, such as medical and finance directors, shows there is still work to be done. The will is there to make sure women are really playing an equal role running the NHS. But now may be the time for people to start getting impatient if they are to meet the target of gender balanced boards by the 2020 deadline."
Danny Mortimer, chief executive of NHS Employers, said: "Big strides have been made in this area, but the report highlights there is much work to be done. At a time when the NHS is experiencing a myriad of challenges, it is vital we make full use of the wealth of talent at our disposal, not just some of it."