There is a more than a 100-fold variation in the numbers of people employed by clinical commissioning groups, HSJ research has found. The revelation has prompted concern over the viability of smaller CCGs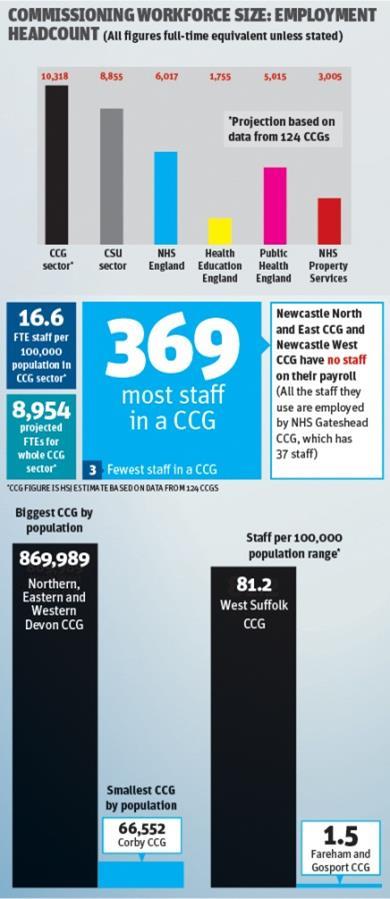 NHS commissioning workforce following the transition to the new organisational structure in April. The research gathered workforce data from CCGs, NHS England, Public Health England, commissioning support units, Health Education England and NHS Property Services. It found that while some CCGs employ as few as three full time equivalent staff, others employ more than 300.
The scale of this divergence is not explained by differences in the size of populations CCGs cover - this varies by a factor of 13 - or the amount of support services CCGs buy in from CSUs, for which HSJ has previously found varies threefold.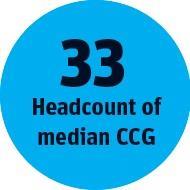 The remainder of the difference is down to CCGs electing to share their management teams. Fareham and Gosport CCG, for instance, employs three full time equivalent staff, but has a shared management team with two of its neighbours: South Eastern Hampshire, which employs 38 FTE staff, and Portsmouth, which has 66 FTE staff.
Newcastle North and East and Newcastle West CCGs have no employees on their payroll, as they are in an "alliance" arrangement with Gateshead CCG, which employs 37 FTE staff.
King's Fund fellow Chris Naylor told HSJ there was no "ideal size" for a commissioning organisation but the smaller CCGs with alliance arrangements carried a risk of alienating local practices that wanted to avoid working across larger areas.
"You can envisage that over time some of the smaller CCGs working in alliances can start asking questions about whether it makes sense to continue as separate organisations or whether there's a case for merging," he said.
Marisa Howes, national communications and policy officer for Managers in Partnership, said her members expected to see more "churn" in organisational structures as "we don't think some of the smaller ones are viable".
One CCG source told HSJ they expected the groups to become more uniform in how much back office support they bought in over the next year, as the optimum scale for various functions became clearer. Rupert Gowrley, a director at MHP Health Mandate, agreed more "harmonisation" between CCGs was likely.
However, smaller CCGs defended their arrangements. Four in Berkshire, each with only 3.1 non-shared FTE staff, said their structure was "economic and efficient", enabling them to scale up for shared transformation programmes while retaining a local focus for other work.
A spokeswoman for all four said: "We are truly independent organisations. We acknowledge our structures are unique and, as such, we regularly review our structures and processes."
Meanwhile, a spokeswoman for Fareham and Gosport said: "Mergers are not inevitable as each CCG has a separate governing body and separate clinical cabinet made up of local GPs, which are focused around commissioning health services for their distinct population."
The largest CCGs are those that opted to retain support services in house rather than use CSUs. These are: Northern, Eastern and Western Devon, which employs 369 FTE staff; Dorset, which employs 229 FTE staff; and Cambridgeshire and Peterborough, with 228 FTE staff.
HSJ has data for 124 out of 211 CCGs. They employ 16.6 FTE staff per 100,000 population - this makes CCGs just over a quarter of the size of the PCT sector, which employed 63.9 FTEs for every 100,000 people. Assuming the 124 were representative, the data suggests the CCG sector as a whole employs around 9,000 FTE staff, compared with the 35,585 employed by PCTs in February 2013.
Read the in-depth analysis of CCG workforce numbers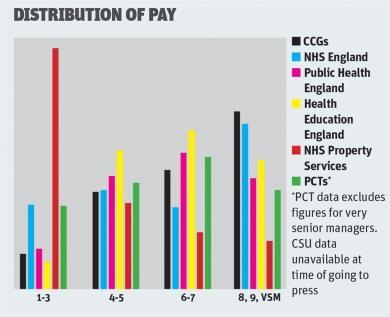 UPDATE 18 June. The CSU workforce data has been revised. The original statistics NHS England sent to us contained errors which have now been corrected.
UPDATE 19 June. West Suffolk CCG's high number of employees per 100,000 population is due to the fact it hosts a shared management function, which also covers Ipswich and East Suffolk CCG.