Analysis suggests majority of acute hospitals are struggling to meet their own plans for nurse staffing
Data shows trusts employing more healthcare assistants than planned
Expert warns there is a risk of "false reassurance" on safety
Decline in achieving staffing plans comes despite increases in employed nurses and tougher agency caps
Almost every NHS acute hospital in England is failing to meet its own nurse staffing targets, an investigation by HSJ has revealed.
Our analysis of quarterly hospital-level staffing data has found that 214 acute hospitals – 96 per cent of those reporting – failed to meet their own planned level for registered nurses working during the day in October 2016. Eighty-five per cent – 190 hospitals – missed their target for nurses working at night in the same month.
This is the worst performance for both day and night since HSJ started collecting data in 2014. See the box below for an explanation of the data HSJ used and how it was collected.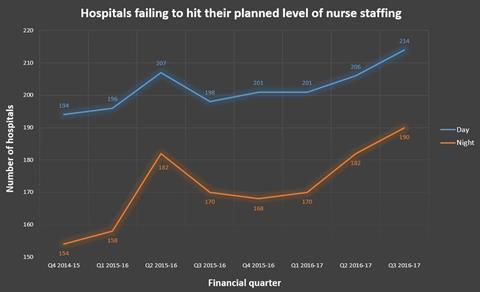 The decline in performance comes despite record recruitment of nurses in the acute sector. The deterioration appeared to accelerate last year as tougher caps on agency spending were introduced in April. This could suggest a fall in agency staff on hospital wards, which has made it harder for trusts to meet their planned nurse staffing levels.
Nurses have said their hospitals are delivering substandard care because of staff shortages, with pressures on the NHS leading to practices such as "one upping". This is where an extra bed is added to a bay of four with no call bell or access to walled oxygen – creating extra work for nurses and an increased risk of infection.
One working in the South West said: "I feel inadequate and ineffective when short staffed. I have an overwhelming feeling of sadness that I cannot provide these vulnerable human beings with the care they need and deserve…
"The most patients I have ever had is 16 on a night shift, I know for a fact that I did not do all the observations and can only hope that I did not cause anyone any real harm."
More than 150 hospitals have failed to achieve their planned daytime staffing levels for nurses for the whole period that HSJ has monitored staffing levels, from quarter four of 2014-15 to quarter three of 2016-17.
The majority of hospitals below their planned staffing levels for nurses were at or above plan for healthcare assistant staffing, suggesting some sites might be filling gaps in the nursing workforce with less qualified staff. In all eight quarters, the majority of hospitals exceeded their planned HCA staffing levels, with even more exceeding their HCA plans at night.
A national workforce expert warned this could lead to "false reassurance" that hospitals were maintaining safety by focusing on numbers of staff, though research shows that nurses are key to outcomes and substituting HCAs can increase risks.
Other key findings from the data include:
79 hospitals had less than 90 per cent of planned nurse staffing in daytime in October 2016.
62 hospitals had less than 95 per cent nurse staffing in the day across all eight quarters, with 15 of those never achieving more than 90 per cent.
At night 92 hospitals had fewer nurses working than planned across all eight quarters, with 18 trusts below 95 per cent.
In October 2016, five hospitals, excluding community sites, had less than 80 per cent nurse staffing during the day (see table).
Table: Hospitals with less than 80 per cent planned nurse staffing in daytime (October 2016)
| | | | | | | | | | |
| --- | --- | --- | --- | --- | --- | --- | --- | --- | --- |
| Trust | Hospital site | Q4 2014-15 | Q1 2015-16 | Q2 2015-16 | Q3 2015-16 | Q4 2015-16 | Q1 2016-17 | Q2 2016-17 | Q3 2016-17 |
| Mid Yorkshire Hospitals Trust | Dewsbury and District Hospital | 87% | 86% | 87% | 87% | 89% | 88% | 78% | 75% |
| Mid Yorkshire Hospitals Trust | Pontefract General Infirmary | 86% | 85% | 82% | 83% | 74% | 80% | 86% | 77% |
| The Princess Alexandra Hospital Trust | Princess Alexandra Hospital | 87% | 79% | 77% | 78% | 72% | 72% | 76% | 77% |
| North Tees and Hartlepool Foundation Trust | University of Hospital of North Tees | 84% | 87% | 86% | 79% | 80% | 83% | 79% | 79% |
| Wrightington, Wigan and Leigh Foundation Trust | Royal Albert Edward Infirmary | 86% | 85% | 81% | 83% | 87% | 84% | 83% | 79% |
Princess Alexandra Hospital has not achieved above 80 per cent of planned nurse staffing since quarter four of 2014-15. The Princess Alexandra Hospital Trust was rated inadequate and placed in special measures in 2016. The trust did not respond in time for publication.
West Cumberland Hospital, part of the North Cumbria University Hospital Trust, and Princess Anne Hospital, run by University Hospital Southampton Trust, had less than 90 per cent of planned nurses working at night in all eight quarters.
Professor Peter Griffiths, from Southampton University and who was a member of the NHS Improvement safe staffing committee for acute wards, said: "This is clearly not a good place for the NHS to be and it isn't getting any better."
He said using HCAs to fill gaps in nurse staffing could be a reasonable strategy but added: "If that becomes a long term approach to filling gaps you could very easily delude yourself that you're maintaining safety because you're maintaining numbers. But actually all the research shows the key workforce for maintaining the safety of patients is the registered nursing workforce, so there is the risk of a false reassurance."
Professor Alison Leary, head of workforce modelling at London South Bank University, said: "The overall trend shows organisations bolstering nurse gaps with HCAs. This might seem like the only practical solution at the time and could be seen as someone being better than no one. However, when that becomes the norm, we have to consider the inherent risk given the evidence that registered nurses have direct benefits for patient safety.
"Added to this is how trusts worked out staffing in the first place – 80 per cent staffing might be tolerable in areas that have carefully thought through staffing and the risk, but 80 per cent on much lower establishments is concerning."
About the data
HSJ has collected staffing data, published on NHS Choices, for the first month of every financial quarter since quarter four of 2014-15 (January 2015).
Reporting of safe staffing data was made a requirement following the Francis report into poor care at Mid Staffordshire Foundation Trust.
214 out of 232 acute hospitals reported data in October 2016.
The data shows an individual hospital's average performance across all wards for that month against its own planned levels. There will be variation between individual wards and between the quality of each trust's staffing plan.
Trusts with significantly more ambitious staffing levels may appear to perform worse than those with a lower, easier to reach staffing target.
Revealed: The hospitals with the worst nurse staffing
1

Currently reading

Revealed: The hospitals with the worst nurse staffing

2

3