2013
In February, Sir Robert Francis QC published his landmark report into poor care at Mid Staffordshire Foundation Trust in which he concluded poor staffing was a contributory factor. In his report he recommended that NICE develop "evidence based tools for establishing the staffing needs of each service" in the NHS.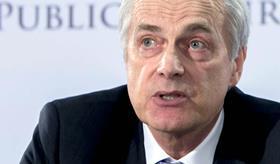 Sir Robert said minimum staffing levels, covering both staff numbers and skill mix, should be drawn up by NICE and policed by the Care Quality Commission. I march, health minister Dan Poulter ruled out the introduction of nationally recognised minimum staff nurse levels, saying they were "not the answer".
NHS England's chief nursing officer Jane Cummings also said that she would not support required minimum nursing ratios in hospitals.
Then the health secretary, Jeremy Hunt, rejected calls to impose minimum staffing levels on hospitals.
2014
In May, NICE issued the first of its planned guidelines on safe staffing with advice on staffing in acute hospital inpatient wards. The guideline said hospitals employing staff ratios of more than eight patients per nurse on a "regular basis" increased the risk of harm in adult hospital wards. But it stopped short of making the ratio a mandatory minimum.
In July, HSJ revealed that out of 139 acute trusts that reported staffing data for May 2014 to their boards, 105 missed their own targets for total nursing hours worked during both day and night in at least one hospital site.
2015
In January, NICE suggested for the first time that it might recommend hospitals should ensure they meet minimum nurse to patient ratios in accident and emergency departments after an earlier refusal to set minimum levels for hospital wards.
NICE then published guidelines on safe staffing in maternity settings, stating that at least one registered midwife should be present for every woman who is in established labour,
Without warning, in June HSJ learned that NHS England had asked NICE to suspend its work to determine safe staffing levels across the NHS.
Sir Robert immediately criticised the move, while senior nursing leaders said the move took them by surprise.
Members of the campaign group Cure the NHS - relatives of patients and families affected by the Mid Staffordshire scandal – marched on Whitehall to protest at NICE's suspension of its safe staffing programme.
Later that month it emerged that NICE spent nearly £1m to develop the safe staffing guidelines.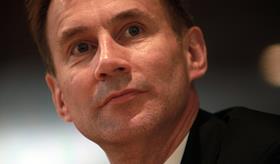 In July, HSJ learned that NICE were preparing to publish recommended nurse staffing levels for accident and emergency departments but it later backed down.
Mr Hunt then announced that future safe staffing guidelines would be independently reviewed by NICE and that work on safe staffing levels led by NHS England's chief nursing officer Jane Cummings would be taken forward by the new regulator, NHS Improvement, overseen by national patient safety director Mike Durkin
Mr Hunt revealed NICE would be asked to independently assess the work, which would also be reviewed separately by chief inspector of hospitals Sir Mike Richards and Sir Robert.
2016
This week, NICE released to HSJ four evidence documents on safe nurse staffing levels.
The move came after two NICE non-executive directors decided it was in the public interest for the evidence reviews to be made public – in contrast to a previous decision by NICE chief executive Sir Andrew Dillon.
Sir Andrew had previously said releasing the evidence reviews to HSJ after a freedom of information request would disrupt the "management of the health service" and delay NHS Improvement from developing its own safe staffing guidance.
Then, today, HSJ published the suppressed NICE safe staffing guidance for hospital emergency departments called for the NHS to implement minimum nurse ratios to ensure safe care.
Exclusive: NICE experts called for minimum staff ratios in leaked guidance
1

2

3

4

Currently reading

Safe staffing leak: How we got here

5

6