Some STP footprints lack the leadership capable of "engaging in the task ahead", says Simon Stevens
NHS England chief executive admits there is a substantial gap between capital STPs are asking for and funding available
New care model focus could shift to models covering populations of 30,000-50,000
Simon Stevens has said some sustainability and transformation plan footprints are "short of the leadership that is capable of engaging in the task ahead" and suggested local government could take on more leadership roles in some areas.
Speaking at the King's Fund's annual conference yesterday, the NHS England chief executive also admitted there was a gap between the capital funding STPs are asking for and the capital currently available.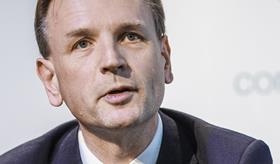 Answering a question about improving leadership within STPs, Mr Stevens said: "In some parts of the country the reality is that we are short of leadership that is capable of engaging in the task ahead and so the question there is 'what do we do?' We find new sources of energy in those places and look to them to provide that.
"In some parts of the country I think that will come from local government, so I would expect that we will work with local authorities in some parts of the country and they may assume a more formal leadership role for some of the tasks that previously had been in the NHS layer.
"In other places it will come from other parts of the community, but the reality is in some places we've probably got to think about how we upgrade the talent that we've got at our disposal."
He also said there would be capital for STPs available outside of the sustainability and transformation fund but there is a "substantial bid ask spread" between the capital that is being asked for what is available.
"We know that there is a substantial bid ask spread between what people would like and what we've currently got in the way of capital availability. So what we are trying to do is figure out with people what the return on investment would be for discreet elements of projects, how quickly they get savings and pay back, and how shovel-ready they are," he said.
Mr Stevens added that it was a "pragmatic" decision, but not the preferred option, to put the bulk of STF towards reducing acute trust deficits given the financial pressure trusts have experienced over the past two years.
He said: "To say we were going to pull that £1.8bn out of trusts next year and the year after would in effect be to say that they have got a £1.8bn incremental efficiency challenge on top of the efficiency challenge they've already got and I don't think that would've been realistic."
Mr Stevens also suggested that in future there would be less focus on new models of care operating on the scale of current multispecialty community provider or primary and acute care system vanguards, and more focus on models that cover populations of 30,000 to 50,000.
This story was updated at about 5pm on 11 November to make the headline more reflective of the piece, and to correct "shelf ready" projects to "shovel ready".