The suspension of safe staffing guidance produced by the National Institute for Health and Care Excellence has left almost three quarters of nurses worried that patient safety will suffer, a UK-wide survey has revealed.
After the work was brought to a halt by NHS England last year, organisations were told guidelines that had already been produced for acute adult inpatient wards and maternity units should be upheld.
However, only 17 per cent of survey respondents working on an adult inpatient ward in an acute hospital in England said their organisation continued to use the guidance, HSJ's sister title Nursing Times reports. Almost two-thirds –said they did not know whether their employer was continuing to use it or not.
Unison, which carried out the survey of 2,708 nurses on 9 February, said the suspension of the NICE guidance had caused "mass confusion" in acute settings.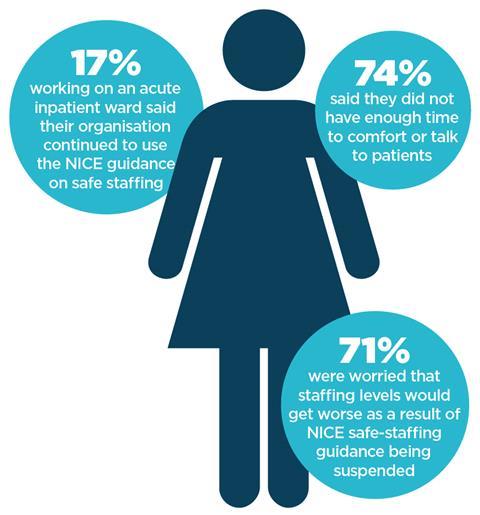 The annual survey found 71 per cent of respondents were worried that staffing levels would get worse and patient safety would suffer as a result of the NICE work being stopped.
In addition, staffing ratios recommended in leaked – but never officially published – NICE guidance for accident and emergency departments were not being met in the majority of cases, said the union.
In particular, around 75 per cent of A&E nurses working on 9 February said their shift did not meet the NICE recommended ratio of at least two registered nurses to one trauma patient. Meanwhile, the same proportion said they did not meet the recommendation of at least one registered nurse to one priority ambulance patient.
Overall, across all ward types, 55 per cent of respondents said they had cared for eight or more patients on the day of the survey – the level at which research suggests harm occurs – increasing to 70% of staff who worked the night shift.
The situation has worsened since last year's survey, when around 40 per cent of nurses said they had cared for eight or more patients, including 55 per cent of those on night shifts.
Further analysis of this year's data revealed the wards where the largest numbers of nurses were reporting a ratio of 1:8 or more were those providing elderly care (80 per cent), medical wards including orthopaedic (75 per cent) and A&E (70 per cent), followed by surgical wards (65 per cent) and mental health inpatients (55 per cent).
Across all of these ward types, the proportion of nurses providing care at this ratio has increased since the same survey last year, with the biggest jump occurring in mental health inpatients and A&E.
Overall this year, 74 per cent of respondents said they did not have enough time to comfort or talk to patients, and 63% said there were not adequate staff numbers to deliver safe, dignified, compassionate care.
On top of this, almost 40 per cent of nurses taking part in the survey agreed or strongly agreed that staffing levels were worse at their organisation due to fewer agency staff being used, following the introduction of government-enforced rules on agency spending in England.
The rules, brought in at the end of last year, included an annual ceiling for total agency nurse spend for each NHS trust, plus limits on the hourly rates they could pay to agency workers.
Meanwhile, 68 per cent of respondents this year said that they had considered leaving their role in the last six months, up from 50 per cent in 2015.
"The survey results show a continued systemic problem with understaffing which exists nationwide, meaning that patient care is suffering across the country," said a report on the survey findings.
"The majority of respondents reported that staffing levels are not sufficientto deliver the minimum standard of patient care required. This is not surprising when over half are caring for eight or more patients at a time – the ratio at which harm is known to occur," it said.
The report also noted that while more than a third of respondents felt their shift had the right skill mix balance, thy were understaffed numerically.
"Many supplemented this with the explanation that healthcare assistants are being told to take on nurse responsibilities," said the report.
Consistent with previous surveys, the majority of respondents this year – 89 per cent – said they agreed with the introduction of mandatory minimum nurse to patient ratios.