Staff absence is a multifaceted issue demanding an equally multifaceted response, panellists at a recent HSJ webinar argued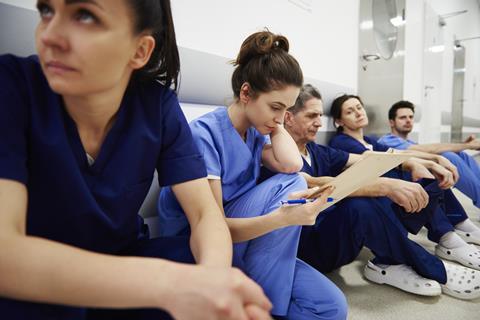 When a colleague is off sick, focus often falls on the specific condition causing the problem. How seriously is it likely to affect the individual's wellbeing? How long might recovery take? Is cover going to be required?
In association with

Such conversations have become increasingly commonplace across the health service in recent times. In June 2022, the overall sickness absence rate for the NHS in England was 5.2 per cent – higher than May 2022 (4.9 per cent) and June 2021 (4.6 per cent).
At a recent HSJ webinar, run in association with GoodShape, a small panel considered how best to understand those figures. The main conclusion: considering specific illnesses in specific instances can support only superficial knowledge.
"When we think about absence, we tend to think about the person and the issue that person has. But absence is both a personal and a systemic issue," said Sarah Morley, the incoming president of the Health People Management Association and executive director of organisational development and workforce at Velindre University Trust.
"I describe a reservoir of wellbeing that can be topped up by positive things and drained away when difficult things happen," she continued. "And what we've found is that there are so many factors now at play, outside and inside the workplace, that are draining that reservoir away."
In short, someone off with newly diagnosed anxiety may not only be experiencing mental ill health due to the unprecedented pressures that have been experienced at work. It may also have its roots in worrying about paying heating bills, or in concerns about organising childcare during teachers' industrial action.
"We're trying harder and harder in most NHS organisations to top up the reservoir," said Ms Morley. "But we're playing an ever-more difficult game in doing that."
What's really causing sickness absence?
The multitude of factors that can play into ill health is far from the only reason that absence is challenging to understand. Masood Aga is clinical director for occupational medicine and speciality lead for health and wellbeing at Sandwell and West Birmingham Trust, where the top two reasons for sickness absence are mental ill health and musculoskeletal problems. (It is the same at Velindre.)
"But what is important to acknowledge is that the reason for sickness absence that is given might not be the real reason for sickness absence," he said.
"If you go off with chronic back pain, you are recorded as being off with a musculoskeletal issue. But the driver of your absence might actually be mental ill health… because anxiety and depression are often integral to a chronic health condition, particularly pain-type conditions like musculoskeletal."
Those sort of data issues are ones that Jonathan Best and colleagues are keen to address. Mr Best is chief customer officer at GoodShape, a company focused on employee wellbeing and performance. He said that data is always the starting point of such efforts, "but our experience working with a range of NHS organisations is that not everybody has got that first piece right yet".
A further problem is that data on sickness absence and wellbeing is often retrospective. It reveals how staff felt a year ago – not how they feel now or, importantly, how likely it is that they will become unwell in the future
"It's very difficult to address this kind of problem without having quite granular detail on the types of absence, the causes of absence. And it's causes of absence that are often not getting captured brilliantly. Very often it seems that, very understandably, when an absence gets reported to a line manager their focus is [more] on: 'How am I going to cover the absence?'
"And sometimes that means the conversation that we would like a line manager to have with the individual about the absence they're experiencing doesn't necessarily go into the level of detail that would be ideal."
There are undoubtedly confidence and training issues at play here, too. Conversations about absence – and the underlying reasons for it – can be sensitive. All panellists agreed it was crucial for managers to feel supported such that they could support their colleagues in turn, but Ms Morley urged against what she described as a "sheep-dip" approach to such learning.
"I think it is very easy to say: 'Right, this is the session for managers on how they manage absence, and everyone needs to do the same thing.' But that doesn't actually give us the outcomes we need, because we know some managers are better people managers than others.
"Instead if we triangulate data and understand where there are more grievances, higher levels of absence, lower levels of appraisals and so on, we can find managers where we need to get alongside them and work with them to be able to provide better support and better understanding."
A preventive approach
Similar analysis may also make it possible to understand whole organisations that need additional support with managing absence. A GoodShape review of data from NHS Digital demonstrated large differences in absence rates both between integrated care systems and between constituent organisations within ICSs.
But a further problem is that data on sickness absence and wellbeing is often retrospective. It reveals how staff felt a year ago – not how they feel now or, importantly, how likely it is that they will become unwell in the future.
At Sandwell and West Birmingham Trust, there are increasing efforts underway to adopt a preventive approach to absence. "We are working on outreach for wellbeing and occupational health, so we don't wait in our clinic for someone to turn up with a problem, we actually go out there [and have conversations]," reported Dr Aga.
"In the past year we have tried to have a quality improvement approach to sickness absence. We are trying to address it in a systematic way rather than haphazardly trying to put something in place.
"Interventions [for staff wellbeing or illness] are great. But they're not a substitute for a good strategy," he concluded.
An on-demand version of this webinar is available.
To access it, visit here and press play.
If you had previously registered as a viewer, you will be able to view the recording immediately.
If you had not previously registered, you will be prompted to do so. Once you have filled in your details you will be able to access the recording.