Jeremy Hunt responds to letter from medical royal colleges
Government will pause contract imposition if BMA agrees to talk about Saturday pay
Hunt says BMA must agree in writing before talks can take place
The government has agreed to pause its planned imposition of a new junior doctors contract from Monday – but only if the British Medical Association agrees to talk about Saturday pay rates.
Health secretary Jeremy Hunt made the offer on Thursday in response to a plea from medical royal colleges and the NHS Confederation for new talks between both sides.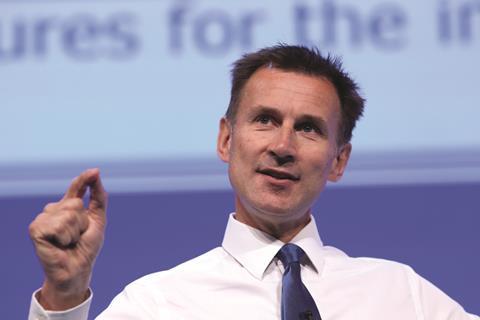 HSJ understands the government considers the intervention of the medical royal colleges presents a genuine possibility to make progress in the dispute.
Mr Hunt's letter, sent to the president of the Academy of Medical Royal Colleges, said: "We will pause introduction of the new contract for five days from Monday should the junior doctors' committee agree to return to talks."
He said the government would not want to revisit what had already been agreed with NHS Employers and Salford Royal Foundation Trust chief executive Sir David Dalton, including the contract's cost neutrality, although he did say he was prepared to discuss "a range of non-contractual issues".
He added: "The [junior doctors committe] has previously backed away from their own written agreement made through Acas to negotiate on unsocial hours and Saturday pay. Despite numerous concessions made by Sir David Dalton on this issue, they would not consider any move away from their initial position.
"In light of this I hope you can agree with our position that any talks should not proceed unless we have written agreement from the JDC that they will agree to negotiate substantively and in good faith on this single biggest outstanding area of disagreement and that they would ratify and recommend any negotiated agreement to their members."
In a statement to HSJ Mr Hunt added: "This is a significant show of good faith by the government in order to break the deadlock.
"We now need the BMA to agree to negotiate on Saturday pay, the biggest area of difference between us, in order for the talks to proceed next week."
In a statement, Professor Dame Sue Bailey, chair of the Academy of Medical Colleges, said: "A five day pause without 'ifs, buts or maybes' and with both sides in the dispute publicly committing to a serious attempt to reach a resolution through genuine dialogue is obviously the only way out of this impasse.
"Before either side does anything else, all the 22 medical royal colleges and faculties are unanimously calling on the secretary of state and the chair of the junior doctors' committee to take a deep breath, dial down the rhetoric and get back to the table for talks facilitated, perhaps, by a senior independent figure."
A statement issued by Johann Malawana, chair of the JDC, in response to Mr Hunt, failed to address whether the BMA would accept negotiating on Saturday pay.
He said: "Junior doctors have said since the outset that we want to reach a negotiated agreement, and have repeatedly urged the government to re-enter talks.
"As suggested by the Academy, we are keen to restart talks with an open mind. It is critical to find a way forward on all the outstanding issues - which are more than just pay - and hope that a new offer is made that can break the impasse."
In a later statement to HSJ the BMA attempted to clarify its position on Saturday pay issues, saying: "Both sides in this dispute have agreed to come to the table. We have agreed to temporarily suspend industrial action and the government has agreed to 'pause' the imposition of the contract. As the academy has proposed, we are going into these agreements without preconditions so cannot say if we'll discuss weekend pay. As we've said before this is the not the only problem we have with the proposed contract."
But the Department of Health hit back adding: "We were clear in our letter that we are expecting the junior doctors' committee to give a written assurance around discussing weekend pay."
Rob Webster, chief executive of the NHS Confederation said: "Both sides should give serious consideration to an approach that would find support from across managerial and clinical leaders. Our members are all keen to see a swift resolution for the benefit of patients and staff, especially when the service is under such intense pressure."
This article was updated at 3.45pm with further statements from the BMA and DH.